Use pajamas or matching hoodies and sweat pants as the basis for these  costumes gathered from around the web.  Warm is important in many parts of the country where Halloween is chilly or downright cold.   Keep warm, save time, save money!  Have a Happy Halloween!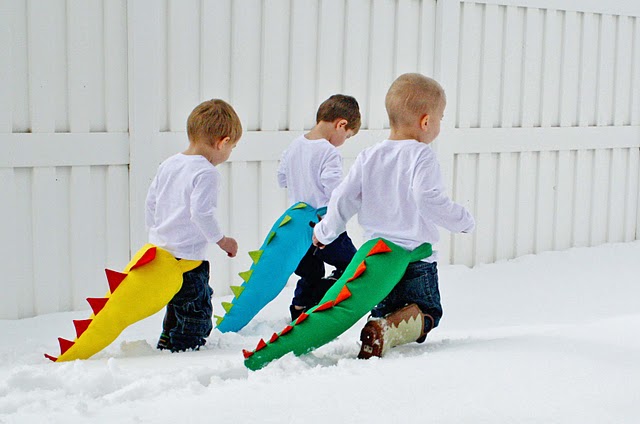 Dragon or dinosaur tails from a guest post at Tatertots and Jello.  Jessica from Running with Scissors provides a sewing tutorial with clear instructions and measurements for making  tails for boys or girls. Add sweat pants and shirts or warm pajamas the same color as the tails, a little face paint and the costume is done!   For a bonus:  The tails go in the toy stash for year round fun!
Add a felt mane and tail to appropriate colored hoodie and sweat pants.  Paws are tan gloves with claws.  Get patterns and instructions at  Country Living
Even better than Mom DIY is Kid DIY – with a bit of mom help and direction of course!  A new spin on robots using gift bags, sticky dots and labels!  Cute!  These will generate a lot of imaginary play beyond Halloween and for very low cost!  Photos and how to at Filth Wizardry
Monkey costume made from brown hoodie and matching pants.  Add ears and belly patch cut from felt, using the dimensions provided in the instructions.  Time left?  Make the bananas too!
Go to  craftzine.com for directions.
Pet Owner Bonus!  A Puss in Boots hat!  Our cat would lie down with the most reproachful and put upon look if someone put this on her head.  This one looks like he will take a more active approach in about two seconds! I couldn't resist!   If your cat loves to dress up, look no further than Good Housekeeping for ideas!
Become a Facebook fan to download Halloween Party Games!  Click the Facebook button at the top to go to A Pinch of Joy fan page and then "like"   for access.

Related posts: