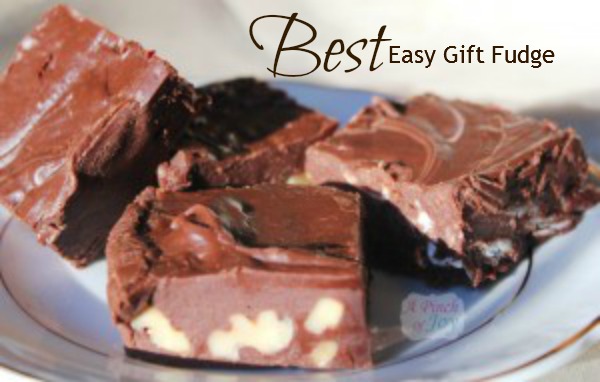 Awesome, smooth and oh, so chocolaty!  This  simple and easy recipe came to me literally on a plate. A plate with three kinds of fudge dreams to delight the tastebuds.  And, such a sweet friend, she included the basic recipe!  Make it once and it will become your signature gift, too.
Line an 8×8 pan with waxed paper, covering the bottom and up the sides.  Do NOT skip this step or you'll be sorry!!!!  No, armed thugs won't show up at your door threatening to break your legs.  It's just that the fudge will come out in messy spoonfuls instead of beautiful, giftable squares.  In a pinch, you can substitute parchment paper.  Waxed paper is best so add it to your shopping list.  Even if you don't use it again until next year, it is worth it.  Spray lightly with cooking spray, too.
If you buy chocolate chips in 12 oz bags, you will need one and a half bags for this recipe.  Pour all ingredients into a flat bowl or pan so ingredients heat uniformly and can melt together.   Microwave on high for 1 and one half minutes (90 seconds).  Remove and stir thoroughly, bringing up the melted mixture from the sides and folding it in and then stirring widely so what was in the middle moves out to the sides. Not as complicated as it sounds!  Microwave one more minute (60 seconds).
Pour into your prepared waxed paper lined 8×8 pan.  Refrigerate for at least two hours so it is set.  Yes, you can speed up the process by putting it in the freezer for an hour – not long enough to freeze, but until it sets well.  And yes, if you live in an area where it is really cold in the winter and want to make multiple batches at one time, you can set them on a clean spot in the unheated garage to cool.  We won't go into the details of how I know that – 'mkay!
Cut and package beautifully.  Gift worthy of kings and the royalty in your life — neighbors, friends, coworkers, teachers, mail carriers and anyone else who deserves a royal treat.
This post was featured at Tea Rose Home , It's a Blog Party, Thrifty Decorating, Six Sisters Stuff,   Miz Helen's Country Cottage
Best Easy Gift Fudge
Ingredients
1 can sweetened condensed milk
¼ cup butter
3 cups of chocolate chips
Instructions
Line 8 x 8 pan with waxed paper across the bottom and up the sides. Do not skip this step!
Pour all ingredients into large shallow microwave safe bowl,
Microwave for 90 seconds.
Mix thoroughly until all ingredients are well incorporated.
Microwave 60 seconds.
Pour into waxed paper lined pan, smoothing into corners and making an even layer of fudge.
Refrigerate for about 2 hours until firm before cutting.
I'm so glad you stopped by today!   Be sure to follow A Pinch of Joy so you don't miss a thing!  I'd love to have your company on this venture!!

Subscribe by email  on the sidebar  or follow on Facebook, RSS feed, bloglovin'  twitter  and check out my  pinterest boards.   If you found this helpful or inspiring please share below!  Your support of A Pinch of Joy is appreciated!


Related posts: