Pin It
Advent calendars or Christmas countdowns
add to  holiday spirit.  In the liturgical (or church) calendar, advent begins in November.   Little ones easier understand a countdown that follows the calendar starting December 1.   Twenty four days is a looooong time.  They learn how to be patient (sort of!) for a more doable period of time!
Every season has a rhythm.  Marking this period of anticipation is easy to do with minimum  time or money.  Include activities or special gifts in your countdown that your family already does.  Special jammies already a Christmas Eve tradition?   Make that part of the countdown.  Same for school or church activities that you already participate in – or that you have "always" wanted to do.   Buy a book each year? Gift it early by including it in the countdown and reading it during the season. These are likely things that are not limited to certain ages or the specifics will change with the child's age.   Make things easy and lighthearted  for parents while you build a sense of predictability and belonging into the holiday season for the little ones amidst all the hoopla.  Have fun!
This great countdown is based on premade boxes and paper cups pinned to a line.  Emily at 52 Mantels even provides the numbered circles as a free printable.  So easy and so colorfully cute!
For toddlers, preschoolers and kindergartners:  If you are looking for an alternative to candy or gifts, Activity Mom, has great ideas for yes!, an activity each day.  She has gathered 24 awesome ideas from her own site and from others.  Then she created printables, a materials list and posted links to the instructions for each activity on her site. Each day the little one gets a card that lets them know what the fun event will be for that day..  When advent activities are scheduled for older siblings or the whole family (like school plays),  add or substitute a "coupon" for the other activity.  These ideas would be a great companion to the countdown calendar above.  Awesome!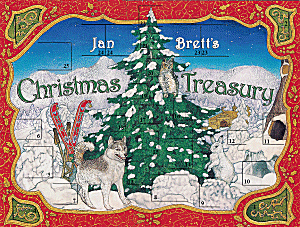 Just need a way to mark the days, besides the usual 25 link paper chain?   Author Jan Brett has this advent calendar.  Print on cardstock, carefully cut and prefold the openings and then fasten the back page(s) underneath so the pictures show through the openings!
Learn about Christmas celebrations around the world with this online calendar from the United Kingdom.  Begin December 1 and click that day's date.  A different  flag will appear each day.  Click through for information about Christmas in that country.  Kids from around the world have sent updates and photos since the calendar was first published.    Very interesting for older kids!
Like A Pinch of Joy on facebook to access exclusive downloads — including 23 ideas on family activities for Advent!
A Moms on Monday post.  Don't miss a crafty, cooking, doing thing!  Follow A Pinch of Joy on facebook, twitter, RSS,  bloglovin' or email!