Pin It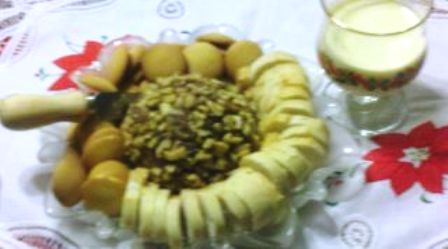 Wheel's sister, Ela, emailed this recipe with glowing recommendation!  She  made it several times  and had rave reviews each time.   This photo, by daughter Ali, is from their family Christmas celebration.
Ela used chunky peanut butter and  1/2 cup semi-sweet chocolate chips. She chopped walnuts in which to roll the finished cheeseball, but says pecans or peanuts would also work well.    Ela said she is looking forward to experimenting a bit with adding other ingredients such as coconut or crushed peppermint candies.  Just keep it easy to spread.  This time she added a chocolate bar chopped into small chunks (made about 1/4 to 1/3 cup) .  Sounds like a versatile recipe!
Enjoy!
Ingredients
1 8 oz. pkg. cream cheese, softened
1/4 cup butter, softened (1/2 stick)
1/4 cup peanut butter
3/4 cup confectioners' sugar
2 Tbsp. brown sugar
3 Tbsp. unsweetened cocoa
1/2 cup chocolate chips
1/3 to 1/2 cup bits o' brickle
2/3 cup finely chopped nuts
Instructions
Beat cream cheese, butter, and peanut butter until creamy.
Stir in remaining ingredients, except nuts. Cover and refrigerate for 2 hours, or until firm.
Shape the mixture into a ball and cover with the chopped nuts by patting the nuts over the ball, OR putting the nuts on a plate and rolling the cheeseball in them.
Store in refrigerator, but allow to soften by letting it set at room temperature for 20-30 minutes before serving.
Serve with graham crackers, vanilla wafers, apple slices, pretzel crackers or your choice.
http://www.apinchofjoy.com/2011/12/chocolate-cheese-ball/
Don't miss a thing!  Follow A Pinch of Joy on facebook, twitter, RSS, bloglovin' or by email.   The holiday downloads on facebook disappear at the end of the year so "like"  for access.  If you are already a follower, look for the exclusive download link on the upper left!

Related posts: