Pin It
Welcome to Mom's on Monday, a collection of ideas for busy mom's I've gathered  around the net!   If you have  suggestions for Mom's on Monday, drop me an email using the contact button on the right!  I'd love to hear from you.
Jolanthe (she has a video on how to pronounce it!) says: "Prior to being a stay-at-home and homeschooling mom, I was a preschool special ed teacher for almost 4 years." This printable pack, with separate sets for preschool and kindergarten was designed to accompany author Jan Brett's book, Gingerbread Baby. If you are also homeschooling or looking for enrichment for your little ones – or something just plain fun for them to do, check this out at Homeschool Creations
Welcome to the World of Jan Brett,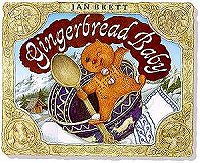 author Jan Brett's websit and browse through tons of activities for each book she has written. Love it! Gingerbread Baby has a board game and indexed coloring pages. There's even a Gingerbread Baby recipe! Search her site for more great printables!
And for a fun gingerbread game, check out Mrs. Abraham's Kindergarten Class.  Doesn't that look like a fun class?!   I would so do this scavenger hunt for a kid's party, a preschool or play group or just my own kids at home on a snowy day! Use the gingerbread recipe above.
Don't miss a thing!  "Like" a Pinch of Joy on facebook, get alerts on twitter, sign up for email delivery of new posts, follow along on your RSS feed or on bloglovin'.  Just one will do:-)