Pin It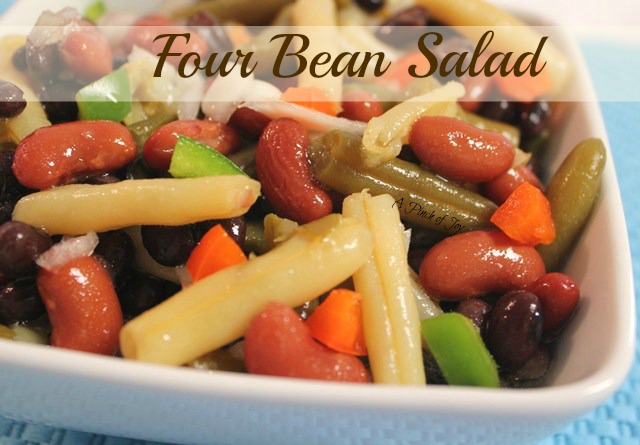 I mentioned yesterday that Wheels had surgery.  Articles   from the Cleveland Clinic and Dietetics, among others mention the importance of protein, fiber and certain vitamins and minerals that aid in the healing process.  Add a little knowledge of Dr. Fuhrman's  superfoods — Greens, Onions, Mushrooms, Beans and Berries, Seeds — from a PBS  fundraising presentation on nutrition.  Wowsa — I just remembered a recipe that will be my super secret weapon.
Four bean salad!   It has onions, beans for fiber and protein, lots of vitamins and minerals, healthy oils for necessary fat, vinegar (shown to help control blood sugar).  It is filling. Plus it makes quite a bit and keeps well so it will work for several meals.  It's good with almost anything.  It is almost a complete light meal by itself.  It's a recipe from my mother in law.  And we like it — a lot!
It can also be jazzed up by adding  1/4 cup each diced green and/or red or orange peppers without significantly affecting the carb, calorie or protein count.    If you use olive oil, be aware that it will become a semi-solid with refrigeration.  It looks a little weird when you take it out of the refrigerator, but will return to its normal state as it warms.  I set it out as I begin meal preparation it's normal by the time we eat.   Just out of curiosity I figured some of the nutritional elements on this recipe.  It's tedious, time consuming and a bit iffy without  special high priced software so I don't do this often.
Ingredients
1 15 ounce can green beans, drained
1 15 ounce can yellow wax beans, drained
1 15 ounce can kidney beans,drained and rinsed
1 15 ounce can black beans, drained and rinsed
1/2 cup onion, minced
1/2 cup olive or canola oil
1/2 cup vinegar
1/2 cup sugar or equivalent sugar substitute
1/4 cup each of diced green peppers and/or red, yellow or orange pepper — optional
Instructions
Whisk together oil, vinegar and sugar.
Add minced onion.
Drain beans and place in large bowl.
If using peppers, add to beans.
Pour dressing over beans and toss lightly.
Cover tightly and refrigerate until serving at least two hours. Flavor develops best after one day.
8 servings one cup each
150 calories, 7 carbs, 3 grams fiber and 3 grams protein.
http://www.apinchofjoy.com/2012/03/four-bean-salad/
Linking up to these awesome parties here and   , Sundae Scoop, Linky Party Sunday, Nifty Thrifty Sunday,  Sunday's Best Party, Creative Blogger's Party and Hop, . .. Make it Great  Melt In Your Mouth  , Mouth Watering Monday,  Market Yourself Monday,. Made By You Monday , Motivate Me Monday , Gunny Sack ,  Just Something I Whipped Up,  More The Merrier, Show Me How, Polly Want a Crafter  . .    , Tasty Tuesday , Delicious Dishes,  Tea Party Tuesday, Crazy Sweet Tuesday, Totally Tasty Tuesday , Tuesday Talent Show, Topsy Turvy Tuesdays Wow Me Wednesday. . .  Whatever Goes Wednesday ,    Rock 'n Share .the Sasse Life  ,  This Chick Cooks , Cast Party Wednesday, Anything Goes, Chatty Chics,  Wow Me Wednesday,  Show and Tell . . .   Full Plate Thursday , Show Off Your Stuff, Hookin' Up, , Share Your Creation,  Thrifty Thursday,      Catch a Glimpse  , Tasty Thursday , Craftionary  . . Flaunt It Friday,  Fridays Unfolded,    Inspiration Friday ,  Everybody's Creative Endeavor,  Delicately Constructed , Simply Link Party,   Foodie Friday,  Weekend Wrap Up ,  Whatcha Got Weekend , Addicted2Decorating, Kitchen Fun, Toys in the Dryer, Spunky Diva, The Grant Life, Farm Girl Friday. . .. Strut Your Stuff Saturday , Serenity Saturday, Check Me Out,  Saturday Night Special,  Saturday Seven, Show and Tell Saturday,