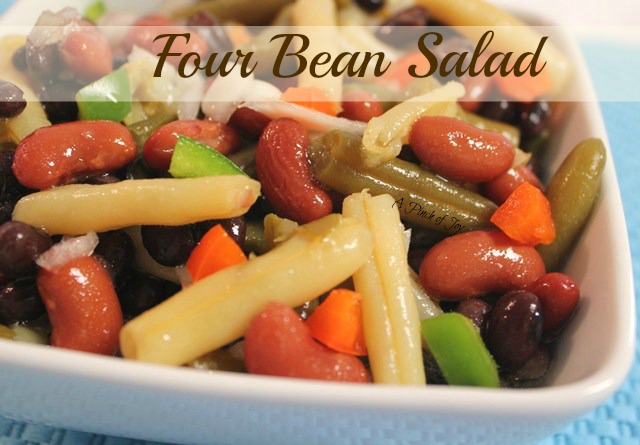 I mentioned yesterday that Wheels had surgery recently.  Articles   from the Cleveland Clinic  among others mention the importance of protein, fiber and certain vitamins and minerals that aid in the healing process. I just remembered a recipe that Wheels loves that meets that criteria.
Four bean salad!   It has onions, beans for fiber and protein, lots of vitamins and minerals, healthy oils for necessary fat, vinegar (shown to help control blood sugar).  It is filling. Plus it makes quite a bit and keeps well so it will work for several meals.  It's good with almost anything.  It is almost a complete light meal by itself.  It's a recipe from my mother in law – changed (of course) to add the black beans.  And did I mention, Wheels likes it — a lot!
It can also be jazzed up by adding  1/4 cup each diced green and/or red or orange peppers without significantly affecting the carb, calorie or protein count. If you use olive oil, be aware that it will become a semi-solid with refrigeration.  It looks a little weird when you take it out of the refrigerator, but will return to its normal state as it warms.  I set it out as I begin meal preparation it's normal by the time we eat.
Four Bean Salad
A twist on the classic bean salad -- good for you in so many ways!
Ingredients
1 15 ounce can green beans, drained
1 15 ounce can yellow wax beans, drained
1 15 ounce can kidney beans,drained and rinsed
1 15 ounce can black beans, drained and rinsed
½ cup onion, minced
½ cup olive or canola oil
½ cup vinegar
½ cup sugar or equivalent sugar substitute
¼ cup each of diced green peppers and/or red, yellow or orange pepper -- optional
Instructions
Whisk together oil, vinegar and sugar.
Add minced onion.
Drain beans and place in large bowl.
If using peppers, add to beans.
Pour dressing over beans and toss lightly.
Cover tightly and refrigerate until serving at least two hours. Flavor develops best after one day.

Related posts: