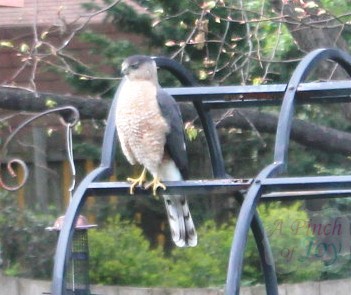 We have a pair of Cooper's Hawks building a nest in our neighborhood.  It's interesting to watch as these big birds (14-20 inches) gather long twigs and fly away.  I'm amazed at the variety of wildlife that shares suburbia with us!
And I'm amazed at the variety of ideas shared each week on busy Monday.  Such creativity and ingenuity!  Thank you all for taking the time to link and share!
Featured from last week:
Repeat Crafter Me   linked ideas for ten great games to play with your little ones while waiting to be served in a restaurant.
Tipgarden gives instructions on how to make giftable ginger syrup that can be used for  gingerale or ginger tea.   Tastes great anytime and  ginger helps upset tummies, if needed.
For this week's party:
Link as many posts as you like of something YOU created yourself — anything that makes life easier, better or more fun! Remember to link directly to your post.
• Add a Busy Monday button somewhere on your blog or add a text link to your post so others can find the party too! I'd love it if you would also follow A Pinch of Joy in some way.
• Take a minute to visit other Busy Monday links this week.and leave some goodness in the comment box.
A link party for ideas that make life better, easier or more fun!
Save