Featured from last week
Scrumptious Apricot Glazed Ham that is quick and easy to prepare from Brown Sugar Toast!
Matt and Jacque from the DIY village detail how they installed an impressive paver walk.  Hard work, but worth every sore muscle.
Remember that hard chocolate ice cream sauce you used to get at Dairy Queen?  Lightly Crunchy has the secret.
And in the category that "A day without learning something new is a day wasted":
Science project Preschool Powol Packets and Make Your Own Brown Sugar from Tip Garden
You'll find these pinned to the Busy Monday Boards on Pinterest.  (pssst email subscribers . . . . click on over to the blog later this week to see all the links!)
 For this week's party: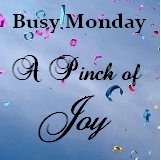 • Link  as many posts  as you like — anything that makes life easier, better or more fun that you created yourself!    Link directly to your post.
• Add a Busy Monday button  somewhere on your blog or add a text link to your post so others can find the party too!   I'd love it if you would also follow A Pinch of Joy in some way.
• Take a minute to leave some goodness in the comment box when you visit  other Busy Monday links this week.
It's your turn to shine . . .
and just to shake things up a bit, last link entered will show first!