Pin It
Plan a fun Halloween play date with the preschool set!  Nothing scary for this age.   I'm a fan of decorations, snacks and games centered around scarecrows and spiders, pumpkins and cats for little ones. Parties should be simple, quick and colorful with the emphasis on the fun activities and playing with friends.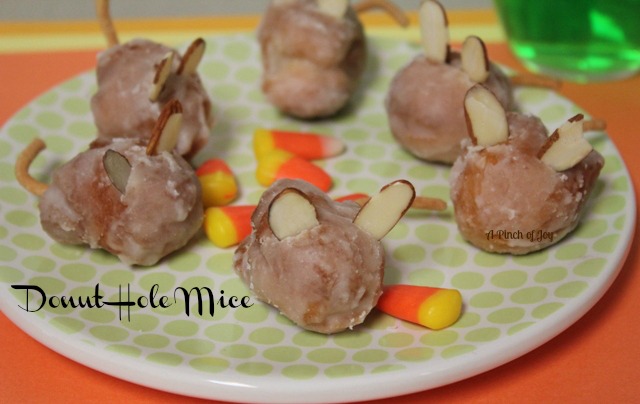 These cute – and yummy—little mice are made with three simple  ingredients.  Glazed donut holes, chow mein noodles for the tail and sliced almonds for the ears.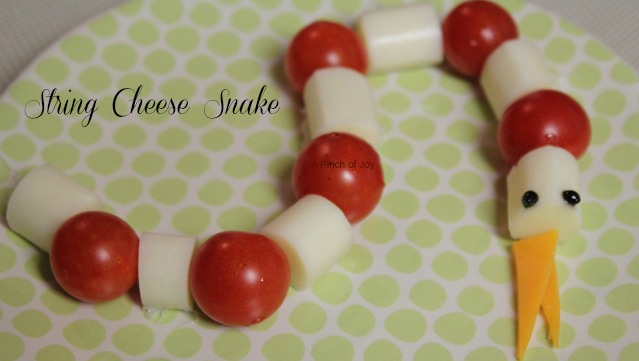 Sammy Snake is made from pieces of string cheese alternating with cherry tomatoes. He has a cheddar slice tongue and eyes from black frosting gel. Instead of cherry tomatoes, use chunks of ham, mini crackers, carrot or green pepper slices.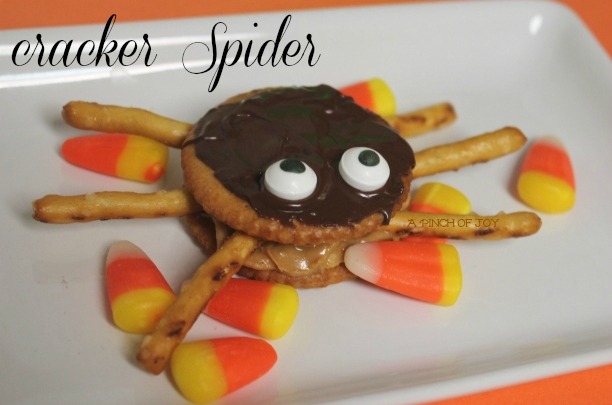 Spiders made from round snack crackers are quick and easy. Use Ritz crackers as they are less likely to crumble as you work with them than are other brands (at least the ones I've tried!) Put 6-10 crackers on a microwave safe plate and place a candy melt wafer on top of each cracker. Microwave on 50% power for about one minute. Spread the melted candy over each cracker. Add eyes. I used candy eyes from Wilton, but mini M&Ms or other little colorful candies will also work. Let cool and harden. On a second set of crackers put a generous teaspoonful of peanut butter in the center of each. Add six thin pretzel sticks to make legs. (Yes, spiders have eight legs —but the cracker only holds six without looking weird!) Set chocolate covered cracker on top of peanut butter and push down gently. You may need to add more peanut butter to the bottom of the chocolate covered cracker to make it fit over the legs and stick together. If there is a peanut allergy to consider, substitute cream cheese for the filling. Older toddlers can assemble their own spiders as a party activity if chocolate has hardened ahead of time.
Decorations are best kept simple. Bright orange tablecloths make the table festive. Large and colorful cutouts from the dollar store or craft store "teacher" section add atmosphere. Friendly pompom spiders are quick and easy decorations to hang from doorways or light fixtures. You can make them different sizes from large to small. Their fuzziness makes them more cuddly than scary!
Plan for some active games and vary the pace with a few quieter games. Younger kids don't always pick up on directions when they are excited. Have some games that are familiar to them and alter them just a bit to the season. Here are three possibilities:
1. Cat, Cat, Spider. Follow the rules for duck, duck, goose. It goes around the circle saying "cat, cat, cat, cat . . spider. The spider jumps up and runs to get back to his/her spot in the circle before the cat slides in. You can use any two Halloween creatures – ghost,ghost, witch for example.
2. Musical pumpkins. Make a circle on the floor by using a piece of orange construction paper for each child – minus one. Play a Halloween song such as "Monster Mash". When the music stops the children set down. Remove a piece of paper before starting the music again. NOTE: For a small group, rather than having children stand on the sidelines, let them share seats. The more rounds, the fewer the seats and kids are still in the game if they are touching a child on a seat. At the last round all children are clustered in one spot.
3. Ring Around the Pumpkin. Circle up with children holding hands. All move in the same direction singing: "Ring around the pumpkin. We are spooky munchkins. Hop scotch, pumpkin. We all fall down."
Tips for successful preschool party games
Have easy to follow rules, clearly spelled out by leader (repeated as necessary!)
Keep things moving.
Always have a helper or several!
Prizes aren't always necessary. Little kids are pleased with just the game itself!
Plan for one or two more games than you think you will need. You will be prepared if kids lose interest. Don't be offended some games just don't "click" with some kids. Or you may need to fill a few more minutes while the snacks are being set up.
Become a Facebook fan to download Halloween Party Games! Click the Facebook button at the top to go to A Pinch of Joy page and then "like" for access.
Don't miss a thing — subscribe by email or RSS feed, follow on facebook or twitter to catch the latest post! If you found this post helpful, please give it a Stumble, Tweet, Pin, or Facebook Like. Your support of A Pinch of Joy is greatly appreciated!
Linking up to these awesome parties here and   , Sundae Scoop, Linky Party Sunday, Nifty Thrifty Sunday,   Creative Blogger's Party and Hop, Sunday Showcase,  Mix It Up Monday, Make It Monday,  .Manic Monday,  .  Made By You Monday , Motivate Me Monday , ,   More The Merrier Inspire Me Monday, Show It Off, . . Tutorials and Tips    , Tasty Tuesday ,   Totally Tasty Tuesday , Tuesday Talent Show, Wow Me Wednesday. . .  Cast Party Wednesday,  Anything Goes,  Wow Me Wednesday, We Did It!,    Full Plate Thursday , Show Off Your Stuff,, Share Your Creation,    Chic and Crafty,  Showcase Your Talent,   Catch a Glimpse  , Crafty Blog Stalker , Pin Inspiration Thursday, . . . Flaunt It Friday,  Fridays Unfolded,    Inspiration Friday ,  Delicately Constructed , Simply Link Party,   Foodie Friday, Home and Family,  Weekend Wrap Up ,  Whatcha Got Weekend ,  Kitchen Fun,  The Grant Life , Shine on Fridays . . .. Strut Your Stuff Saturday , Serenity Saturday, Check Me Out,  Saturday Night Special,  Saturday Seven, Show and Tell Saturday,
~~~~~~~~~~~~~~~~~~~~~~~~~~~~~~~~~~~~~~~~~~~~~~~~~~~~~