Every recipe at A Pinch of Joy can be printed or saved to your free ZipList Recipe Box.  And the ingredients can be added to a personalized   grocery list.  Here's how: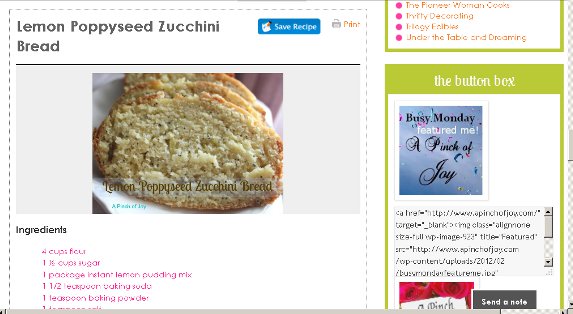 1.  To print, click on "print" in the upper right hand corner and follow the prompts your computer gives!  Easy peasey!
2. To save to your own personalized Recipe Box, you will need to become a member of ZipList.  It's free, quick and easy — my top priorities in getting things done!  Just click on the big blue button that says " Save Recipe" in the upper left hand corner.  If you need to become a member, just follow the prompts.  If you are already a member, the next screen that pops up is:
3.  Click on "Add to Recipe Box"  and a copy of the recipe is saved to your recipe box.  This is the best option when you are browsing for ideas for future use.    If you are in action mode — looking for a recipe to use tonight and the refrigerator is empty –  click on "Add to Shopping List".   The recipe is not only added to your Recipe Box, but a shopping list for the necessary ingredients is also generated!  More about that feature in a minute . . .
4.  If you click on "Add to Recipe Box" this is the next screen you will see.  It also gives you an option to add to the grocery list.   However, we are going to choose the first option and click on "Recipe Box".
5.  This is the recipe box which will contain only recipes you personally have saved.  (This is what mine looked like yesterday.)  The "Sort by" drop down menu lets you arrange recipes alphabetically or by the most recently added.  As you can see from the tabs and other links that there are a number of other magical things you can do from this page.  However, right now we are just going to save the recipe and create a grocery list.
6.  Move your cursor over a specific recipe picture and you will see these three little green boxes pop up.  The first one removes the recipe from your box should you find a duplicate or some other reason.  The third one allows you to add that recipe to your meal plans for the upcoming week or month– another fabulous feature!  Click on the title of the recipe to go to the recipe itself.   To explore the List feature, let's click on "Add to List".
7.  Here is the list for the Lemon Poppyseed Zucchini Bread recipe.  The first section includes items that are specific to the recipe, those things that  people might not necessarily have on hand.  The second section includes items that are considered staples and most people would have on hand.   If you know that you are out of one of those staple items, just click in the box and it will be added to your list.
8. At the bottom of your list are several options.  Want your spouse or kids to pick up a few things on the way home?  Set up a list for the other shoppers in your household.  Title it whatever you wish and then link with anyone who will be shopping.   Any update to your list will be synced with the others online or on their phone.  (Phone apps are free. Take your phone with you while shopping and you can click off items on the list as you add them to your grocery cart.)
There are a number of ways to add to your grocery list besides from the recipes in your Recipe Box.  The list history also makes it easy to add things you have previously purchased to a new list.  You can type in additional items, as well.  You can use your phone's barcode scanner if you want a specific size or brand every time and the list will "remember" it for you. ZipList will categorize items for your convenience.  It knows that turkey slices are in the deli and turkey breasts are in the meat department.  AND when the list is done – click on those little blue icons with the dollar signs.   ZipList will show you coupons and which of your preferred stores has the best deals advertised that week!   Your own personal assistant!!!
Saving recipes and creating a grocery list are only two of the fabulous functions ZipList  provides.  For  information on other features and how it all works, click here.  To sign up,  click here.
Don't miss a thing –  subscribe by email or RSS feed, follow on facebook or twitter to catch the latest post!  If you found this post helpful, please  give it a Stumble, Tweet, Pin, or Facebook Like. Your support of A Pinch of Joy is greatly appreciated!
~~~~~~~~~~~~~~~~~~~~~~~~~~~~~~~~~~~~~~~~~