Thursday was Thanksgiving Day in the States, a time to reflect and  express our thankfulness.  I am so thankful for each and everyone of you!  Hundreds — and sometimes thousands —  of readers  come each day to find information, to keep up with our little family or just to wander through.  You make this all worth while!  Because of you I am constantly inspired to try new things, to share all those random tidbits that have been stored away  — not to mention learn new techie stuff so I can share. It's an amazing ride — and I'm so glad you are sharing it!
Featured this week:
Butter Buns  – Family Home and Life
Mousse Truffle Shots – Cooking on the Front Burner
Super Easy Pocket Pies – Crafty Journal
 Carissa's Food Blog – How to have your own Busy Bag Exchange
Sweet Boutique – Thanksgiving Menu with recipes and printables
Made In A Day – Winter Wispy Wreath
Just a note
Wheels and I are planning a vacation for a couple of weeks in December — SOOOO excited!   Next week will be the same. While we are gone, Bytes will put up Busy Monday at the usual time– and things may not be quite the same.  Hope you understand!
I loooove all things Christmas. Because I will miss a lot of the Christmas decorating and planning and goodness, I decided I would ask you to help  celebrate the season by sharing YOUR Christmas ideas.  On December 1, A Pinch of Joy will open a linky for Christmas Only that will remain open until December 25.  Watch for more details!
This Week's Party: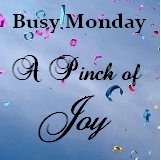 Thanks so much for bringing your awesome talent to share on Busy Monday! While you are here, visit a few links and leave some goodness in the comment box. You'll find the friendliest people party here!
Link directly to your post — a recipe, a craft, fashion, interior decorating, anything that you've created yourself goes as long as it is family friendly and you haven't linked it here before.   No link parties please.
Add a Busy Monday button somewhere on your blog or a text link to your post (required for a feature). I'd love it if you would also follow A Pinch of Joy in some way.

Related posts: