Pin It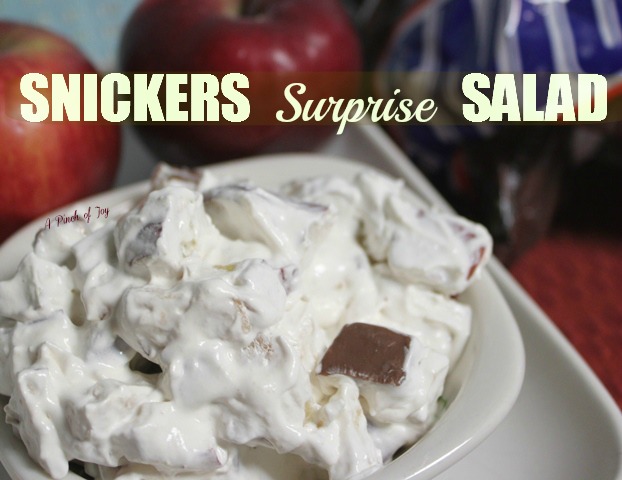 Snickers are my favorite candy bar!  Through college, they were often my lunch along with an apple, carrot sticks and maybe, but more often not, a sandwich.   Then at the office, they became my afternoon break staple.  Other people couldn't function without coffee.  Me —  Snickers!     And then, once upon a time, my sister Bee brought a Snickers Salad to a family potluck.  Everyone raved.  I wondered how the Snickers Bars lasted long enough to get put in a salad.   Were they crazy???
 After the last Halloween trick or treater departed last night,  there were five Snickers bars left in the bowl.  Hmmmmm – leftover Snickers Bars.  Bee's salad.  Of course, I did not have the recipe because I never figured there would be leftover Snickers Bars in MY lifetime in MY house.  But there I was with five of the babies in my hands.  I quickly threw them in the cupboard under a bag of something.  Out of sight,  out of mind sort of thinking.  Today I called sister Vee on her lunch hour to see if she had the recipe.  No, Bee was the specialist so she didn't have a copy either.  I left a frantic message on Bee's voice mail to call me after work with the recipe.  I had to work fast before temptation overtook me and there were NO leftover Snickers Bars in my lifetime in my house.
I kept my hands busy caulking and sanding and painting until  she called.  And made me talk about the weather, the families, the . . . . .  And then she gave me the recipe.  I listened in disbelief.  Is there . . . no, none of that she said.  Well, is there. . . no, none of that either.  Just three ingredients, she said.  Really.  Really??  I felt a little cheated.  But she was the specialist.
I set out my chopping board and  cut those beautiful Snickers bars into little cubes.  I washed my three apples and cut them into quarters and cored them.  Then I cut each quarter into slices and the slices into dices.  By then, the secret ingredient was soft so I scooped a big scoop into the bowl with the Snickers and the apples.  And remembered the specialist told me to adjust as needed.  She used a whole container of the secret ingredient.  I eyeballed it and decided half a container would be sufficient for us.  Yes, I did.  I tweaked a recipe from the specialist!
Cool Whip is the secret ingredient.  Just plain Cool Whip.  Although you can probably use French Vanilla or Extra Creamy.  But don't add anything else to it or you will ruin the perfect flavor combination.  The other reason – besides flavor – that you use Cool Whip is because it hides the Snickers cubes amongst the apples.  Biting into a sweet caramel, nutty cube is a surprise!  And that is why this is Snickers Surprise Salad.  Not Specialist Bee's Best Secret Snicker Dessert Salad – although you can call it that, too.
To save this recipe to your ZipList Recipe Box, click the blue button.  To find out more about ZipList, click here.
Ingredients
3 medium apples, your favorite crisp type
5-6 Fun Size or 3 full size Snickers Bars
8 oz container of Cool Whip (or less)
Instructions
Wash, quarter and core apples. Slice and cut slices into small pieces. Add to medium bowl.
Cut Snickers into small pieces. Add to bowl.
Add half of Cool Whip to bowl and mix. Depending on size of apples and taste, add more Cool Whip until apples and Snickers Bars are generously coated.
Serve immediately.
Note: If making ahead, toss apples with a scant tablespoon of lemon juice , before adding other ingredients. This will prevent browning.
http://www.apinchofjoy.com/2012/11/snickers-surprise-salad/
Don't miss a thing — subscribe by email or RSS feed, follow on facebook or twitter to catch the latest post!
If you found this post interesting or helpful, please share with others by  giving it a Stumble, Tweet, Pin, or Facebook Like.  Your support of A Pinch of Joy is greatly appreciated!

~~~~~~~~~~~~~~~~~~~~~~~~~~~~~~~~~~~~~~~~~~~~~~~~~~~~~~~~~~~~~
Linking up to these awesome parties here and   , Sundae Scoop, Linky Party Sunday, Nifty Thrifty Sunday,  Sunday's Best Party, Creative Blogger's Party and Hop, Sunday Showcase,  Mix It Up Monday, Make It Monday,  .Manic Monday,  .Make it Great,  ,  Market Yourself Monday,. Made By You Monday , Motivate Me Monday , Gunny Sack ,   More The Merrier, Polly Want a Crafter Inspire Me Monday, Show It Off, . . Tutorials and Tips    , Tasty Tuesday ,  Gathering Spot,  Totally Tasty Tuesday , Tuesday Talent Show, Lil Luna,  Cowgirl Up, Wow Me Wednesday. . .  Cast Party Wednesday,  Anything Goes,  Wow Me Wednesday, We Did It!, Home Décor and Organizing, . Centerpiece Wednesday,    Full Plate Thursday , Show Off Your Stuff, Hookin' Up, , Share Your Creation,    Chic and Crafty,  Showcase Your Talent,   Catch a Glimpse  , Crafty Blog Stalker , Pin Inspiration Thursday, . . . Flaunt It Friday,  Fridays Unfolded,    Inspiration Friday ,  Delicately Constructed , Simply Link Party,   Foodie Friday, Home and Family,  Weekend Wrap Up ,  Whatcha Got Weekend ,  Kitchen Fun,  The Grant Life , Shine on Fridays . . .. Strut Your Stuff Saturday , Serenity Saturday, Check Me Out,  Saturday Night Special,  Saturday Seven, Show and Tell Saturday,