Pin It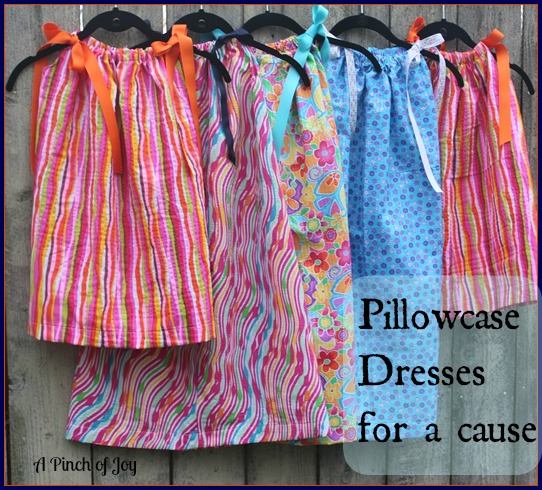 In 2011,  Mallory set down to write her Christmas list.  Looking around her room, she realized she had what she needed. There wasn't really anything more she wanted.   She remembered the amazing kids from the Ungandan Orphan Children's Choir  who had sung at her church the year before.  Those kids had almost nothing.  Mallory Fundora's Christmas list that year had just one request – to help Africa.  With her parents' help and support, Mallory founded Project Yesu with the goal of helping kids in Africa.  She has partnered with three other organizations to provide goods and services to kids in Uganda.  You can read her story here  and here.
Today Mallory is a middle school student, planning her second trip to Uganda in June of this year.   She asks our help with donations of pillow case dresses to take with her for the girls touched by Project Yesu.    How many dresses can you make for girls who may have only one or two pieces of clothing to call their own?   Pillowcase dresses are so easy that they are the perfect beginner project.  There are other ways to help too.   
 I contacted Mallory to find out more information.  Here is what she said in response to my questions (with a couple of notes added):
Why did you decide to do the Pillowcase Dresses? I decided to do the dresses because they are really cute, and really easy to make, so anyone can make one. I feel that receiving a dress will make the girls so happy. They don't have a lot of clothes, some kids only have one set of clothes, so they get really dirty, worn out and sometimes don't fit very well.
What are some other ways people can help with the Pillowcase Dress project?  We are also collecting supplies to bring to the teams on the ground in Uganda. We are collecting adult diapers, baby formula, medical supplies, work gloves, and of course money. I have a challenge to raise $1,000 in 100 days! That's just one person to donate $10 a day.   (You can send Mallory gift cards or checks made out to Project Yesu in addition to the ways mentioned on her website.  100% of all donations go to Ugandan children.  Project Yesu is a non-profit organization.)
When someone sponsors a kid from Uganda, what does the money pay for?   The money goes to pay their school fees, and also provides meals and medical care for them.  (The sponsorship is coordinated through Project Have Hope.   More information is available on the Project Yesu website along with a link to the Project Have Hope website.)  
What would you tell other people – not just kids – who have ideas about doing something like this?   I would say "Go for it!" One thing I try to do is encourage people, especially kids, that they can make a difference. It doesn't have to be something huge, or on the other side of the world, it can be in their community, school, neighborhood, anywhere!
 
What is the most fun thing for you in starting and working with Project Yesu? The best part is getting to be in Uganda and spending time with the kids! I love to be with them, play with them and love on them.
What is one thing people would be surprised to know about Mallory?  A lot of people think that I am special, but I am just an ordinary teenager who has a big dream. I am goofy, silly, I act crazy with my friends, I am normal, I am an ordinary girl who serves an EXTRAORDINARY God!
Dresses can be sent to:  Mallory Fundora, Project Yesu, 1178 Willow Bend Drive, Clarksville, TN 37043
 Include a note to say you read about Project Yesu on A Pinch of Joy.  Ask to be added to her mailing list for updates, if you wish!  And pass the word!!  I found out when Danielle at My Life Adventures linked her list of 14 Pinterest Challenges before 2014 to the Busy Monday link party. Her list led me to Ladybird Lane and to One Artsy Mama.   And now you know too.   Thanks, Danielle!

The deadline to have completed dresses in Mallory's hands is May 28.  There is plenty of time to make one or a dozen.  All you need is a yard (or less)  of a sturdy, washable fabric, 2.5 five yards of washable ribbon (grosgrain is good!)  and twenty minutes for each dress.   When you make the second, the time will be less than twenty minutes

  Make the dresses plain or fancy.  Here is my tutorial on how to make a pillowcase dress.  Also check out my Pinterest Pillowcase Dresses board for other tutorials and inspiration.  If you have a tutorial or inspiration to add to the board, leave a comment or email me with the URL and I will add it. 
We can make a difference in the life of one child and change the world!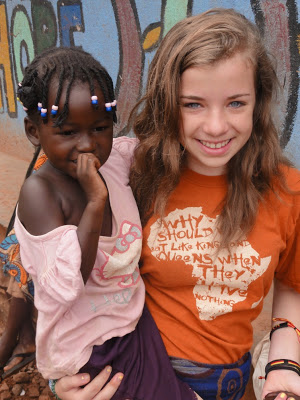 Mallory
with one of her Ugandan friends.
   I am so glad you stopped by!    If you found this inspiring, please share on your favorite network by clicking one of the buttons on the bottom of this post.
       Follow A Pinch of Joy so you don't miss a thing!  Click the buttons on the header to subscribe or follow so you can catch the latest post!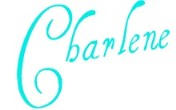 ~~~~~~~~~~~~~~~~~~~~~~~~~~~~~~~~~~~~~~~~~~~~~~~~~~~~~~~~~~~~~~~~~~~~~~~~~~~~~~~~~~~~~~~~~