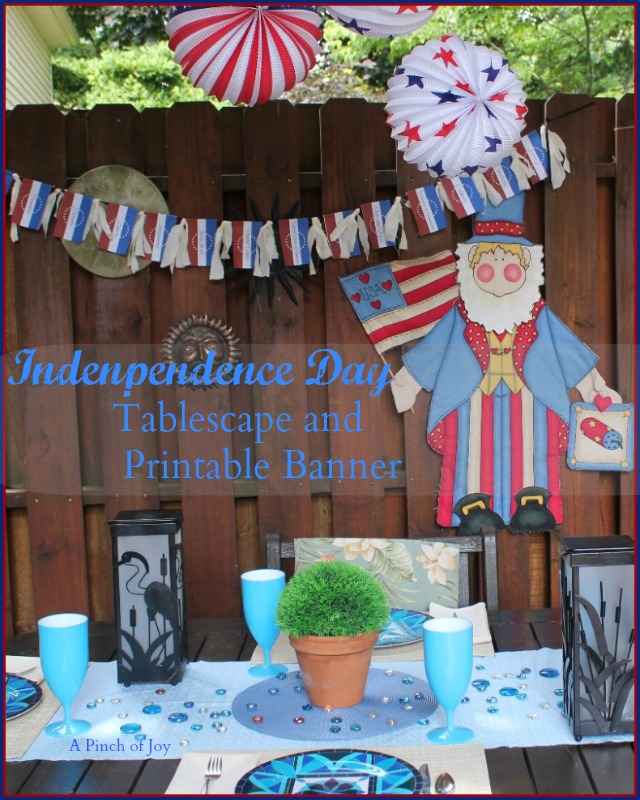 Happy Fourth of July!!!!   A beachy vibe, a patriotic nod and beautiful outdoor weather create the perfect setting for a leisurely afternoon spent on the deck.  Follow it up with a great barbecue before heading off to meet friends  at the community fireworks.  Relaxation, sophisticated easy living.  We are ready!    (We can pull it off for one afternoon.  Can't we???)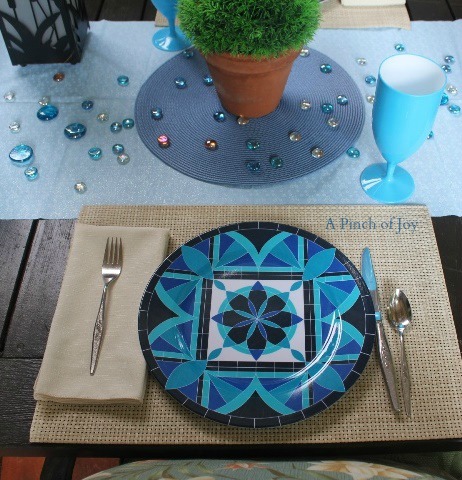 Paula, the delightful Brazilian headwaiter on our Hawaiian cruise, would not tolerate this place setting.  She was ultra precise with every utensil perfectly aligned and one inch from the edge of the table.  I'm not sure what she did with the napkin before shaking it out into the diner's lap — but I'm pretty sure it wasn't hapharzardly placed under the tableware.  I doubt that she would use plastic plates and glasses from JoAnn's either.  But we are relaxed and beachy this July Fourth afternoon!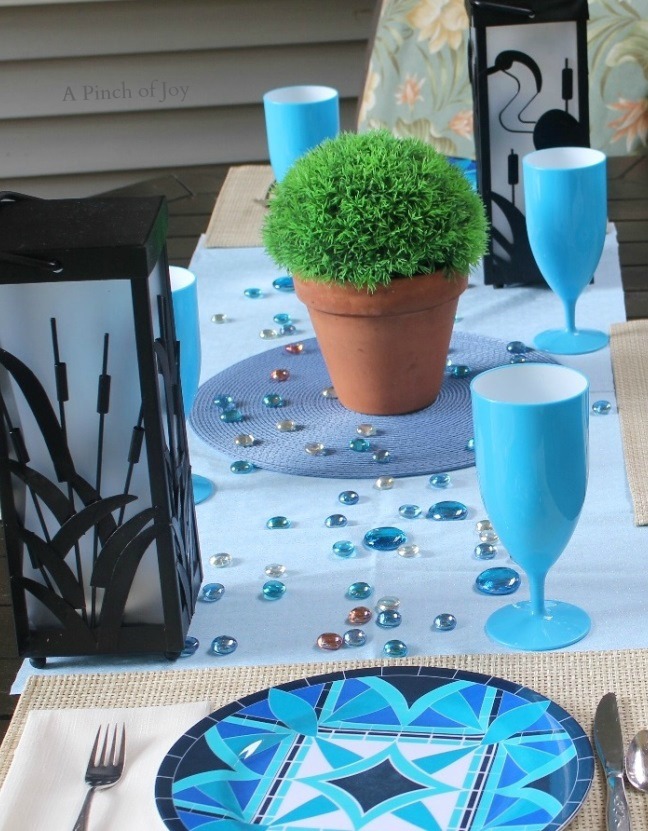 The table runner is actually a light turquoisy blue printed with silver stars.  The solar lanterns are newly refurbished.  I picked them up at a moving sale (A multi million dollar lottery winner was moving out of the first $1 million house into a new bigger house!   Maybe some of that will rub off!)   The lanterns needed a new coat of spray paint, which was easy enough.  The crane lantern has its original diffuser, but the cattail lantern needed a new one.  We looked high and low and finally  I found it in the quilting department at HobLob.  It's a sheet of plastic used for making quilt piece templates.  A little trimming and finesse-ing and it works perfectly.  The lanterns have a beautiful soft blue glow in the early evening that fits the blue and beachy mood.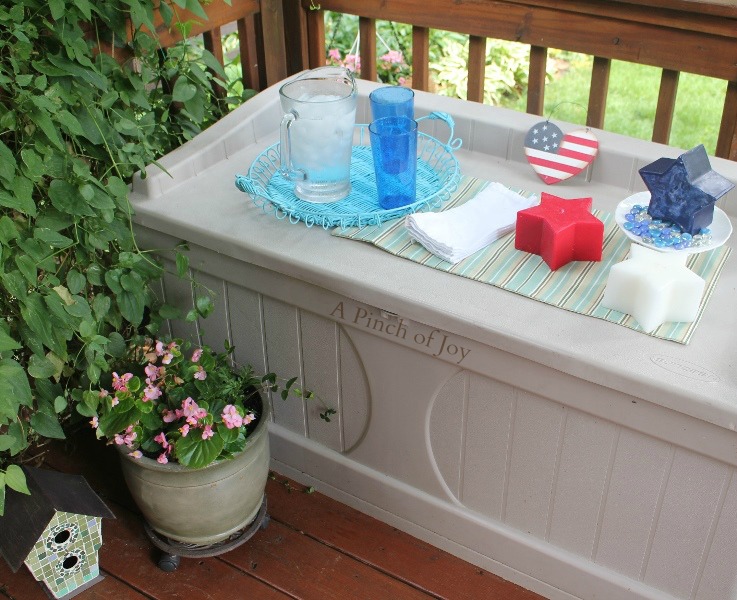 A drink station set up on the deck cushion box, with citronella candles at the ready.   The tray was a garage sale find several years ago, transformed with a can of teal spray paint.  Love it!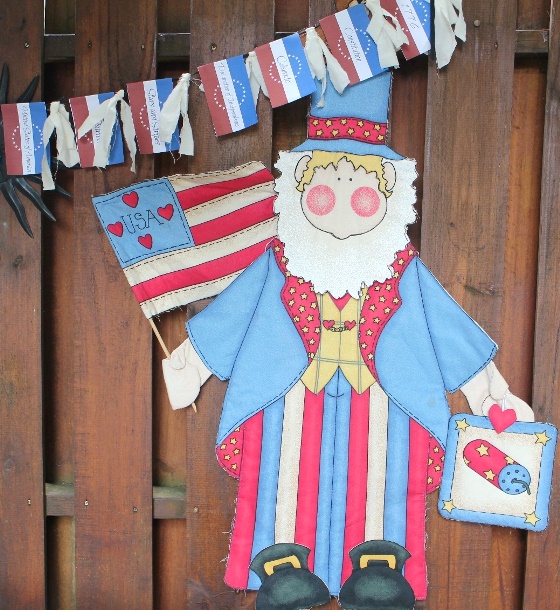 A banner is a quick and easy way to get in holiday mode!  Colorful, simple and festive are good. And if you are like me, trying to juggle a dozen things at once, quick and easy is really good!   This red, white and blue banner, starred and striped was easy to do – and it will be quicker for you since I saved the template for you HERE. 
Directions: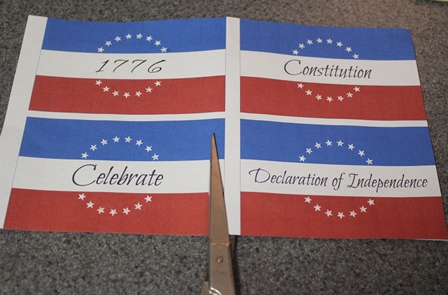 Print on letter sized paper or card stock.    Cut out each flag, leaving the white portion on the LEFT side of each one.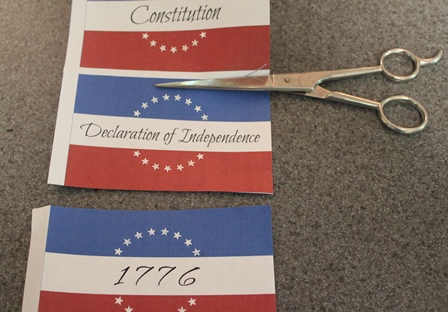 Fold the white portion over a ribbon, butcher twine, or whatever you choose for the base of your banner.  I used quarter inch grosgrain ribbon. Be sure to leave plenty of extra ribbon on both ends for hanging the finished banner.   Tape each folded tab securely to the back of the flag.   A little pocket is created that will let you slide the flag along the ribbon.  If you want stability and don't want the flags to move,   staple the flags to the ribbon.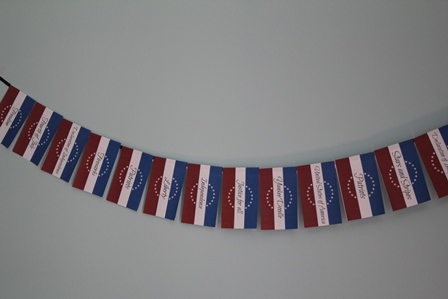 Done.   Unless. . . .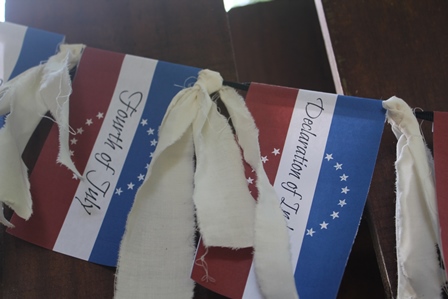 You want to add spacers or embellishments.   I used two torn muslin strips, each about 1 inch by 10 inches, tied in between each flag.  They add to the beachy vibe and follow the spirit of our Uncle Sam.  It took about 40 minutes to add them, but that included figuring out how big and how to do it.    Red or blue striped paper an inch or so wide, folded and taped would add more color and length to the banner.    Red/white/blue ribbons would also work.  
Uncle Sam wants YOU to have a Happy Fourth of July! 
Isn't he a cute dude? 
(A handmade gift once upon a time from Wheel's sister, JayEl!)
I'm so glad you stopped by today!   Be sure to follow A Pinch of Joy so you don't miss a thing! 
Subscribe by email  on the sidebar or follow on Facebook, RSS feed, bloglovin' or twitter   using the links here or the blue buttons on the header!   Follow  my pinterest boards here.    If you found this helpful, please share on your favorite network by clicking one of the buttons on the bottom of this post.
Linking up to these awesome parties here and 
Save

Related posts: