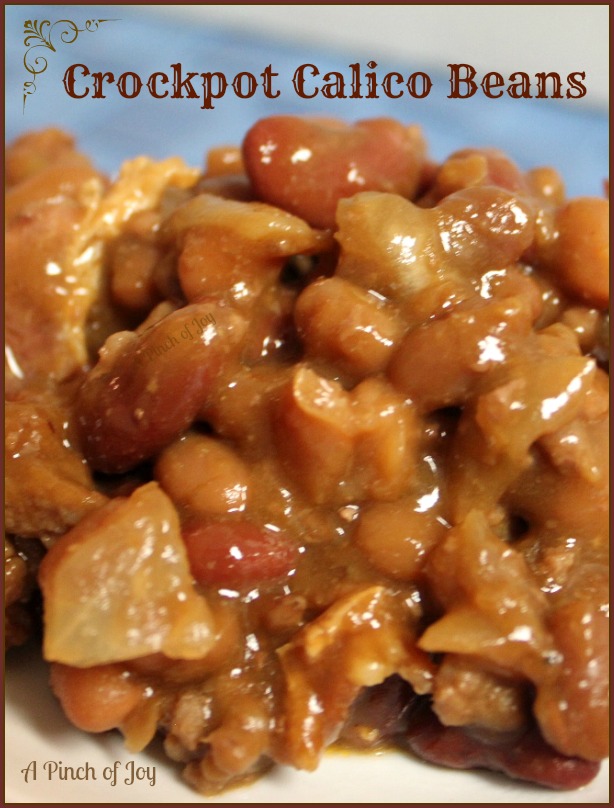 Perfect for a summer barbecue or an autumn tailgate party, this dish is also known also as Trucker, Cowboy or Prairie Beans. This recipe is foolproof and flexible and quick to make!  Gather your crockpot and all the ingredients.  Pour, stir and cook on low for 3-6 hours.  Make it a main dish with a tossed salad for a perfect meal.  Take it to a gathering and you won't be bringing home leftovers because it's always a hit.

 Chips* contributed the recipe to a Quasquicentennial community cookbook where I found it.   I have tweaked it — of course!– many different ways and it always turns out tasty!    Chips' family prefers the deeper flavor that comes from baking in a 9x 13 pan for about an hour at 350 F.   Chips adds  1 tablespoon mustard and 1 teaspoon chili powder, though she warns against using beans or BBQ sauce with chili flavor.   She also uses Splenda brown sugar and has used ham instead of bacon.
 My sister Bee  uses Campbell's pork n beans from the original recipe, but I like Bush's baked beans because they are "thicker".  (We finally brought her over to Bush's side as you can tell from the comment below — now we are going to work on the attitude toward onions 🙂  ) Kidney beans, dark or light, it doesn't matter, but do pick up the low sodium version on your grocery shelf.  (Less salt = good for you.)  Lima Beans  bring a texture, size and color variation to the mix.  I sometimes substitute a can of black beans — still tasty!  And so are Great Northern Beans.  I have also made it with 2 cans of kidney beans.  This is a very forgiving combination!     You can get about 12 servings if you use this for a main dish.  Take it to a gathering  and the serving size is more likely to be around 1/2 cup since people are generally also "sampling"  other things so you can count on about 25 servings.

If you are looking for the recipe so you can get going and get to the party on time, scroll on down.  You already know that this is a great dish for crowds because it will fill your crockpot.  And then your family.
But, if you gasped when you saw the picture of the ingredients and thought "does she know how many carbs are in those beans?", then read on.   Legumes, which is what these beans are called, are in a special class.  Yes, they are higher in carbs – but they also have a built in protein and plenty of fiber.  Legumes  tend to be absorbed more slowly into the blood stream.  The slower absorption keeps blood sugar levels more even and keeps you feeling full and satisfied longer than more quickly digested foods.  Eating healthy for the long term requires a balanced diet that takes into account all your nutritional needs.  The soluble fiber helps lower cholesterol and keep you regular.  Protein is necessary for energy and strong muscles.  Good– and good for you.
* Full Disclosure:  Chips'  brother  married my sister Kay.  Millions of beans were consumed in the evolution of this recipe with no harm done. 
** Full Disclosure #2 — reposted from the archives as part of A Pinch of Joy  Second Anniversary celebration! 
Crockpot Calico Beans
A hearty, healthy and filling main dish perfect for a summer picnic or an autumn tailgating party!
Ingredients
2 cans baked beans, 28 oz each
1 16 ounce can red kidney beans, drained (dark or light)
1 16 ounce can lima beans, drained (or Great Northern beans, drained)
1 pound lean ground beef, browned and drained
8 slices bacon, crisped and cut into pieces
¼ cup catsup
¼ c Barbecue sauce
1 medium onion, diced
¼ cup brown sugar
¼ cup white sugar
1 tsp chili powder, optional
1 tbsp. mustard, optional
Instructions
Spray crockpot
Brown and drain ground beef and bacon.
While they are cooking, put all other ingredients into crockpot, turned on low.
Add cooked meats and stir gently until blended.
Cook on low for about 3 hours and up to 6 hours.
OR can also bake at 350 in 9x13 pan, uncovered for 1 hour
Notes
Charlene @ A Pinch of Joy
I'm so glad you stopped by today!   Be sure to follow A Pinch of Joy so you don't miss a thing! 
Facebook / RSS feed / bloglovin' / twitter / pinterest  If you found this helpful, please share below!  Your support of A Pinch of Joy is  appreciated!
~~~~~~~~~~~~~~~~~~~~~~~~~~~~~~~~~~~~~~~~~~~~~~~~~~~~~~~~~~~~~~~~~~~~~~~~~~~~~~~~~~~~~~~~~~~~~~~~~~~~~~~~~~~~~~~~~~~~~~~~~~~~~

Related posts: