Pin It
Welcome to another Busy Monday!  It's going to be a busy week around here. I'm so glad you take time in your busy week to stop by and share your ideas and take a look around at the ideas others bring to the party! .

 Did you notice the Zulily banner on the right?  By now you know I am all about stretching the budget in ways large and small.    If you haven't shopped Zulily before, new deals with discounts up to 70%  are posted each morning and will last sometimes for 72 hours – other times 24 hours.    Top brands, good deals! 
Featured from last week
This slideshow requires JavaScript.
Dreams of a Farm – Home Canned Apple Pie Filling   The Pin Junkie – Halloween Candy Corn Banner   Walking on Sunshine – Mini Pumpkin Pies   Five Little Chefs – Halloween Scavenger Hunt   Miz Helen's Country Cottage - Caramel Apple Blondie Pie   Craft Dictator – The Convertible Pallet       Life on Lakeshore Drive – Poppyseed Chicken Casserole    
Let's Party!
Thank you for coming by to share your talent and great ideas on Busy Monday each week!  If you are new to the party – welcome!!!!   Take a few seconds to read the guidelines because I would love to be able to feature you!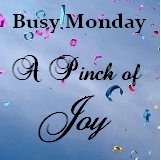 Add a Busy Monday button somewhere on your blog or  a text link in your post.

Link directly to your post –  anything family friendly  YOU created yourself.   Please no link parties, sales pages, giveaways.

 I would love it if you follow A Pinch of Joy in some way – email, rss,  facebook, twitter, bloglovin'.

Visit other Busy Monday links and leave some goodness in the comment box.  And if you were the recipient of that sweetness — please return it and pass it on!
I try to follow everybody who links on facebook and/or bloglovin'.  If I miss you, give me a prompt!   All features are pinned  to my Pinterest Boards from your website — and so are other links that catch my eye!   I also share  on facebook.

************** HELP WANTED!  Looking for someone who would be willing to choose Busy Monday features for publication on November 3 from the October 26 party and / or November 10 from the November 3 party.  I have one person who was sweet enough to volunteer.  It would be awesome to have another!   The person/s who do this will be able to post a brief introduction with a link to their blog and one medium photo.   Email me at Charlene@apinchofjoy.com for more details.    Wheels and I will be on a fall getaway so this will be very much appreciated!!