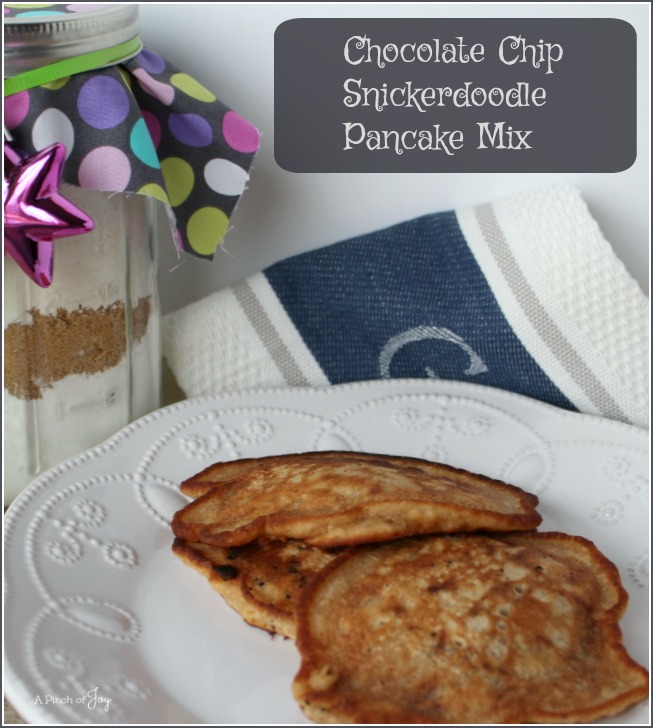 Chocolate Chip Snickerdoodle Pancakes — a welcome gift and a delicious breakfast.  Or a great brinner — you know, breakfast for dinner.  Light and fluffy pancakes with just the right amount of chocolate and a hint of spice to life them from the ordinary.  So good!!
To make a Gift in a Jar, use a wide mouth pint jar.  Cut the bottom from a disposable cup to make a funnel, if you don't have one.  (See this post Potato Soup – Gift in a Jar  for how to make the funnel and other tips in making a gift in a jar. ) Add the ingredients in the order given, tamping them down as you go.  The recipe as given will make 12 pancakes.  If you'd like to make a larger batch of mix, use a wide mouth quart jar (shown above) and just double the amount of each ingredient.  You will be able to make 24 pancakes from the large batch.
To make the recipe for immediate enjoyment, add all the mix ingredients to a medium sized bowl.  Then follow the directions for making the pancakes in the recipe below.
Add embellishments to the full jar.  The jar above has a square of cloth laid over the jar lid flat before adding the ring.  You don't have to be precise on the measurements so this is a great way to utilize those bits and pieces of fabric in your stash!  Click this link to get your Free Printable Tags for Chocolate Chip Snickerdoodle Pancake Mix — A Pinch of Joy Gift in a Jar
For other posts in the Gift in a Jar series see also:  Savory Chicken Noodle Soup Mix    Potato Soup Mix     Hot Chocolate Mix         Toffee Blondies Mix     Chocolate Andes Mint Cookie Mix        Apple ButterCrumb Cake Mix

Chocolate Chip Snickerdoodle Pancake Mix
Light and fluffy pancakes with just the right amount of chocolate and a hint of spice to make them extraordinary!
Author:
A Pinch of Joy by Charlene Vance
Ingredients
Layer in widemouth pint jar in this order:
¾ cup cake flour
⅓ cup brown sugar
⅓ cup chocolate chips
2 teaspoons baking powder
¾ teaspoon cinnamon
To make pancakes
1 jar pancake mix
2 eggs
1 teaspoon vanilla extract
2 tablespoons oil plus more for pan, if desired
1 cup of milk plus additional ¼ cup
Instructions
Mix together eggs, vanilla, oil and 1 cup of milk.
Slowly add mix from jar and mix until all ingredients are combined.
Add additional milk 1-2 tablespoons at a time until batter reaches desired consistency.
Preheat skillet with 1 tablespoon of oil (or use cooking spray, if you prefer).
Using a ¼ cup measure, scoop batter onto heated skillet. Cook for 2-4 minutes until golden brown. Flip pancake and repeat for the second side.
I'm so glad you stopped by today!
   B
e sure to follow A Pinch of Joy so you don't miss a thing!   Subscribe by email  on the sidebar  or follow on Facebook / RSS feed  / bloglovin' / twitter  and check out my  pinterest boards.   If you found this helpful or inspiring please share below!  Your support of A Pinch of Joy is appreciated!

Related posts: