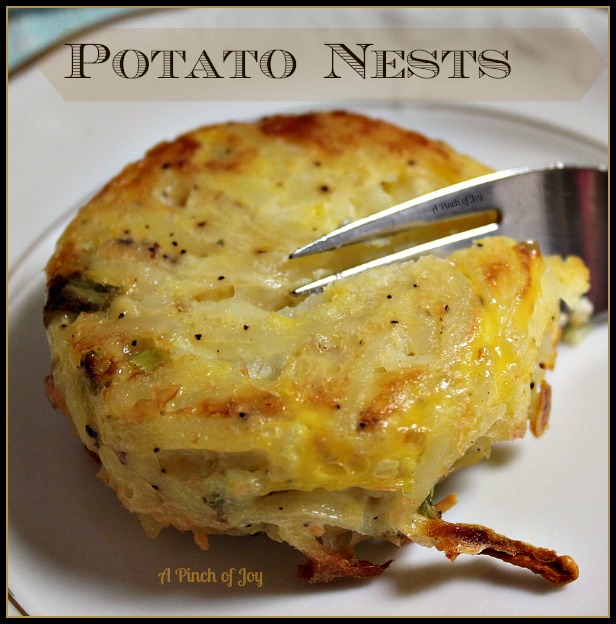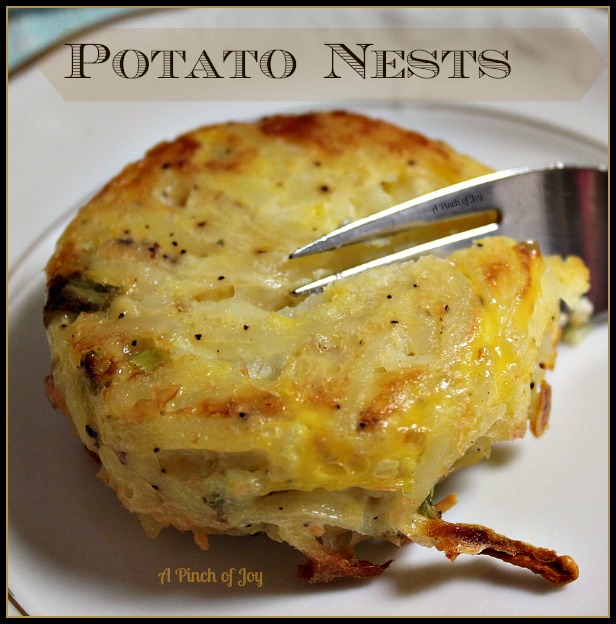 I served this at a tea party brunch for something a little more substantial and with a different texture and savory taste than the usual fare.  I served in the fancy ramekins in which they were baked.  A platter of these nicely turned out would be spectacular, especially with a few chopped chives over the top and perhaps a bit of other green garnish tucked in between the cakes.   Foods that are already portioned make a buffet line move quickly.
This is quick to make because you start out with packaged shredded potatoes.  I used the kind found in the refrigerated section.   The shredded Parmesan cheese adds to the flavor and you can use your choice of cheese for the remaining measure of cheese.  I didn't want my potato nests to have a bright yellow color so chose a white yellow mix of cheese.  You can also use this mixture as a "bowl" for scrambled eggs after baking.  To do this, press the back of a tablespoon into each mound, making a nest, before baking.  During the last few minutes of baking, scramble eggs as you usually do.   Remove the nests to platter or plate, mound the eggs into each "bowl" and garnish with bacon.  Serve hot for  breakfast or brunch.
Not just for breakfast or brunch, these savories make a nice portion controlled side dish for a special dinner, too.  Or use them for a hearty appetizer.  Very versatile!!!!
Check out these other versatile menu ideas for Easter holiday goodness, too!
Resurrection Rolls              Lemon Poppyseed Zuchinni Bread         Honey Banana Bread
Wicked Good Pork Chops              Aloha Chicken                         Orange Glazed Cornish Hens
Sunny Broccoli Salad             Wicked Simple Sweet Slaw        Spinach Salad/ lemon garlic dressing
Spiced Pineapple Carrot Cake       Coconut Macaroons                    Hot Fudge Sundae Cake
Ingredients
1 20 ounce package shredded refrigerated potatoes (I use Simply Potatoes)
2 large eggs, beaten
6 green onions chopped
1 cup shredded cheese (I used Colby jack, but your choice)
½ cup shredded Parmesan cheese
½ teaspoon salt
¼ teaspoon ground pepper or to taste
Instructions
Preheat oven to 375 degrees F.
Grease or spray 12 cup muffin pan or 10 ramekins; set aside.
In a large bowl, beat the 2 eggs just until yoke and white are mixed.
Add green onions, salt, cheese and stir.
Mix in refrigerated potatoes.
Scoop mixture in greased muffin cups or ramekins.
Bake for 20 to 25 minutes or until golden brown and set.
http://www.apinchofjoy.com/2013/03/potato-nests-and-holiday-menu-suggestions/
To save this recipe to your ZipList Recipe Box, click the blue button.  To find out more about ZipList, click here.
Follow A Pinch of Joy so you don't miss a thing!  Click the buttons on the header to subscribe by email or RSS feed, follow on facebook or twitter to catch the latest post!  Share with others by  giving this post a Stumble, Tweet, Pin, or Facebook Like by clicking the buttons on the bottom of this post.  Your support of A Pinch of Joy is  appreciated!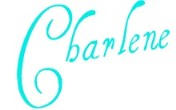 Linking up to these awesome parties here [Read more...]