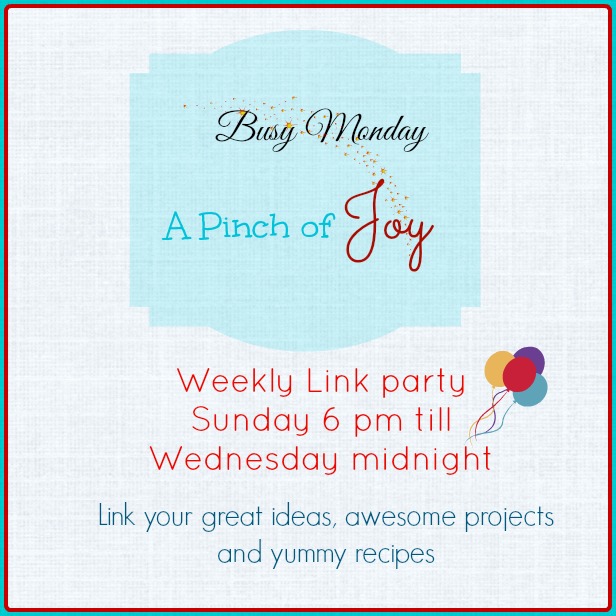 What a week!  A rare September storm pounded with pingpong ball sized hail for almost thirty minutes and then was followed by a brilliant double rainbow. Our credit card number was stolen. We got new cellphones that work great everywhere but in the house where we still have to hover around the front window.   Single silverware pieces began showing up in random boxes — what's up with that?  But the best part was unpacking the last box packed with all the leftovers around the house — the one that should have said "unpack me first".  It contained, among other things, the base unit for the landline, the rest of the silverware, all the pens we own and most importantly my prescription (expensive!) reading glasses! 
Edited to add:  Then I forgot to adjust the time since we've moved into a different time zone so Busy Monday is going up late. I'll be posting according to the Central Daylight Zone instead of the Eastern from now on.  My apologies for any inconvenience!   Thanks for coming by to add your links and here's to a great week for all!
This slideshow requires JavaScript.
Featured from last week: Gourmet Getaways –
Salted Caramel Cheesecake
Living off Love and Coffee —
Halloween Party on a Budget
  Diane and Dean DIYing Together —
;DIY Garden Fountain 
Five Little Chefs —
Halloween Boo Sign 
  Cooking with Vinyl —
Homemade Strawberry Ice Cream
  City of Creative Dreams —
Playdate Cards Printable
  Reasons to Skip the Housework —
Raspberry Peach Crumble
  Ramblings of a Bad Domestic Goddess —
9 Simple Tips to Hosting a Tailgate Party   

Please read before linking!

Add a Busy Monday Button somewhere on your blog. OR add a text link to your specific post. Here is a text link: A Pinch of Joy Click copy for the button code (you won't actually see it) and then click and paste on your blog.
Link only home related and family friendly posts that YOU created yourself. Please no link parties, sales pages, giveaways or posts you've linked before.
Visit one or two other links and and give the gift of a comment! It's a party!!!

By linking, you agree that photos are your own or that you have specific permission to use them and that posts may be shared on social media with attribution to you

.
Please follow A Pinch of Joy in some way: Facebook / RSS feed / bloglovin' / twitter




Related posts: