Summer is officially here – almost!  June 20.  And my birthday is this week which makes summer truly official.   Now is when time begins to speed up.  Scientists haven't fully documented it, but I'm pretty sure time goes faster from the third week in June until the first week in September than any other period in the calendar year.   It's like the days fly off the calendar in double time!
There were so many great links last week!  Recipes enough for a great birthday party, with ideas for clothing, games, gifts, decorations, how to organize everything and get the house party-ready  — even a great after party story– were linked.  I have to limit myself to only three features though so here are a most viewed and a couple that caught my eye. . .
A super easy summer berry tart that Deb from Cooking on the Front Burner made for her book club.  Bonus — a mention of book titles for summer reading!
Bows and Buttons and Bugs!  A summer banner idea from Alderberry Hill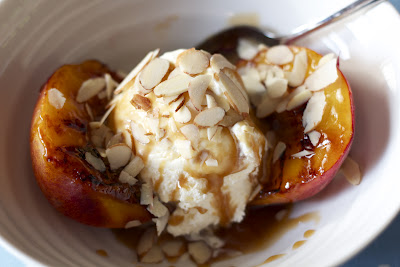 Valerie from The Year of Living Healthfully shared grilled peaches with amaretto syrup.
Thanks to everyone who participated in the Pinterest experiment with a contributor board.  I've added a project to my blogging calendar later this summer! Features are pinned each week to my Pinterest board and all the Busy Monday links are archived above under the connecting button.
Related posts: