Aloha!
We returned from vacation this past week!
Guess where we were  — as if aloha wasn't a huge giveaway!  The Christmas tree above is in the lobby of the gorgeous Royal Hotel at Wakiki Beach in Honolulu.  And this was the scene from the other end of the lobby: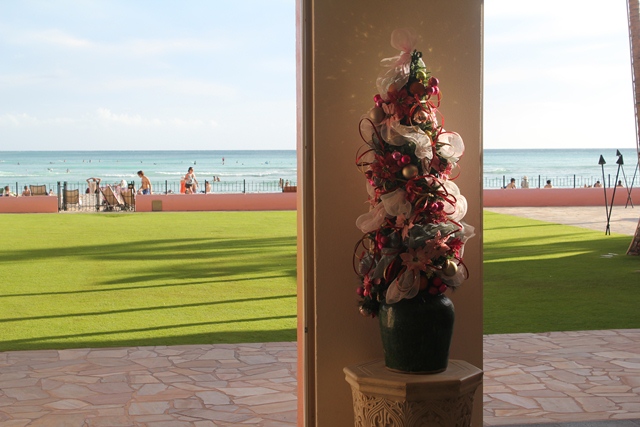 Not that we stayed there — just a beautiful stop on our sojourn.  Mostly we were on a ship with its own beautiful Christmas trees as we cruised from Los Angeles to Hawaii. There we went from one island to another and then cruised back to LA via Ensenada, Mexico. It was our first time in California, too; so we went a couple of days early to do the touristy thing. The cruise was a marvelous time spent with two of Wheels' sisters and their misters – relaxing, and recharging! Back to reality with a head cold and a furnace that died the first night. But those are out of the way now, so let's get down to Christmas and sharing A Pinch of Joy!
Busy Monday is open for your great ideas on all things food, living well, doing it yourself and having fun. My focus group of non-bloggers tell me they love going through the links each week and seeing the fabulous work that you all do. (Hint—leave a comment and let people know you appreciate them! Use a pseudonym or just your first name if you must – no one will stalk you and steal your firstborn! Honest!)
Thanks so much for bringing your awesome talent from all over the country – and yes, the world! – to share on Busy Monday! Just a gentle reminder for linking:

Link directly to your post – as many as you like of anything YOU created yourself and that you haven't linked here before.
Add a Busy Monday button somewhere on your blog or a text link to your post (required for a feature –  no link, no feature). I'd love it if you would also follow A Pinch of Joy in some way.
 Visit one or two other Busy Monday links .and leave some goodness in the comment box. You'll find the friendliest people party here!

 Loading InLinkz …