Bunny Tail Truffles and Bunny Tail Games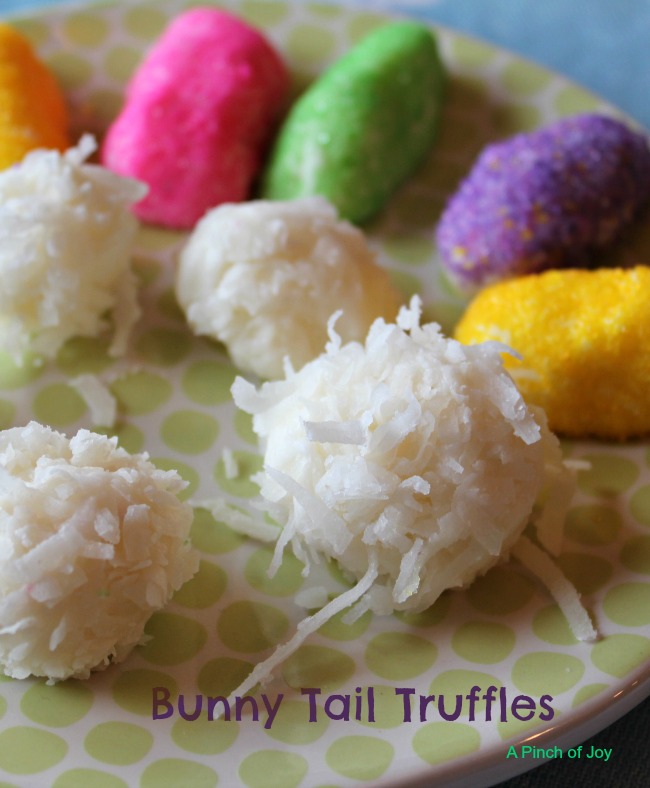 Author:
A Pinch of Joy by Charlene Vance
8 ounce block of cream cheese
5 cups powdered sugar, more or less
½ teaspoon almond flavoring
2 cups shredded coconut
Candied sugar or sprinkles
Using paddle on mixer, beat cream cheese until fluffy.
Gradually add half the powdered sugar, then the flavoring.
Continue adding powdered sugar and mixing thoroughly. Watch as you reach the last cup and stop adding when the mixture becomes thick. You have enough powdered sugar when you can form a soft ball with palms dipped in powdered sugar.
Let mixture set about 10 minutes to set up and dry a bit, before shaping.
Form one inch balls and roll in coconut to make bunny tails.
For Easter Egg Truffles, make a small egg shape and roll in colored sugar/sprinkles.
Place on waxed or parchment paper and let set for 2 - 3 hours for the outside to dry.
Recipe by
A Pinch of Joy
at https://www.apinchofjoy.com/2016/03/bunny-tail-truffles-and-bunny-tail-games/