Old Fashioned Brownie with frosting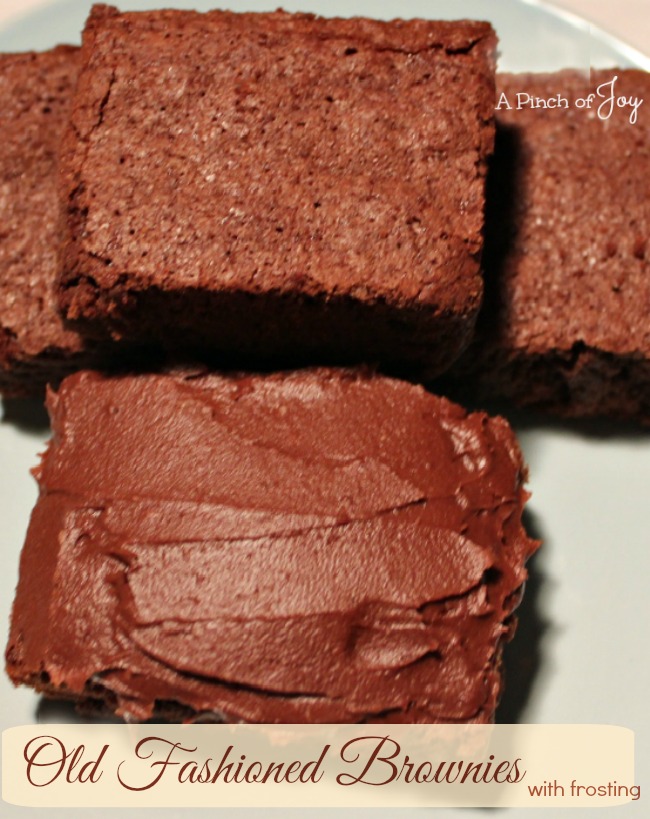 Author:
A Pinch of Joy by Charlene Vance
1 cup plus 3 tablespoons butter
¾ cup cocoa powder
4 large eggs OR 5 medium eggs
2 cups sugar
1 ½ cups all-purpose flour
½ teaspoon baking powder
1 teaspoon salt
2 teaspoons vanilla extract
6 tablespoons butter, softened
2⅔ cups confectioners sugar
½ cup cocoa powder
½ teaspoon vanilla extract
¼ cup milk
Preheat oven to 350 F. Grease 9x13 inch baking pan with butter or cooking spray.
Melt butter in microwave and pour into large mixing bowl.
Whisk in cocoa powder until smooth and then stir in vanilla and sugar.
Add eggs until just well mixed.
Add flour, baking powder and salt; again, until just mixed.
Spread into prepared pan and bake at 350 for 25-28 minutes or until a toothpick inserted in the center comes out clean. Test early and do not overbake.
Cool on wire rack.
Set out butter to soften before you begin making the brownies or soften in microwave for about 10 seconds.
Mix cocoa powder and confectioner's sugar together in medium bowl and cream with softened butter.
Add milk and vanilla and stir until thoroughly mixed and fluffy.
Spread over cooled brownies and slice into 24 2"x2" bars.
Note: Frosting recipe will cut in half easily and turn out as nicely as a full batch.
Recipe by
A Pinch of Joy
at https://www.apinchofjoy.com/2016/05/old-fashioned-brownie-with-frosting/