Fro Yo Duos - Frozen Greek Yogurt Treat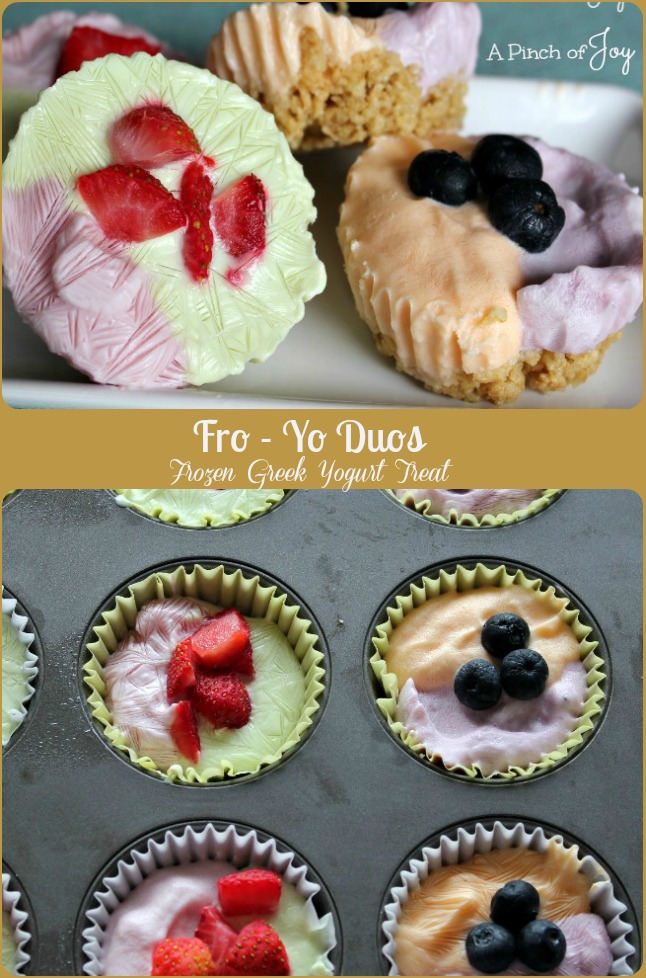 Author:
A Pinch of Joy by Charlene Vance
Recipe type:
Snack / Dessert
1 cup vanilla chex cereal, crushed
2 tablespoons butter, melted
1 container strawberry Greek yogurt
1 container Key lime Greek yogurt
1 container blueberry Greek yogurt
1 container orange crème Greek yogurt
6 strawberries chopped
18 blueberries
Line twelve muffin cups with cupcake papers.
In small bowl mix crushed cereal and melted butter.
Spoon a tablespoon of butter and cereal into each muffin cup and press firmly with rounded bowl of spoon.
Spoon a teaspoon of strawberry yogurt into six of the muffin cups, keeping the yogurt to one side. Spoon lime yogurt into the other half of each of the six cups.
Repeat for the other six cups, using blueberry and orange yogurt.
Top the strawberry duo with chopped strawberries and the blueberry duo with three blueberries.
Cover with plastic wrap and freeze for at least 2 hours until firm.
To serve remove from pan and cupcake wrapper and let stand on serving plate or in small serving bowl for about five minutes.
Store any remaining yogurt cups in resealable freezer bag or tightly sealed plastic container.
Recipe by
A Pinch of Joy
at https://www.apinchofjoy.com/2016/08/fro-yo-duos-frozen-greek-yogurt-treat/