Loaded Coleslaw aka Pasta Veggie Coleslaw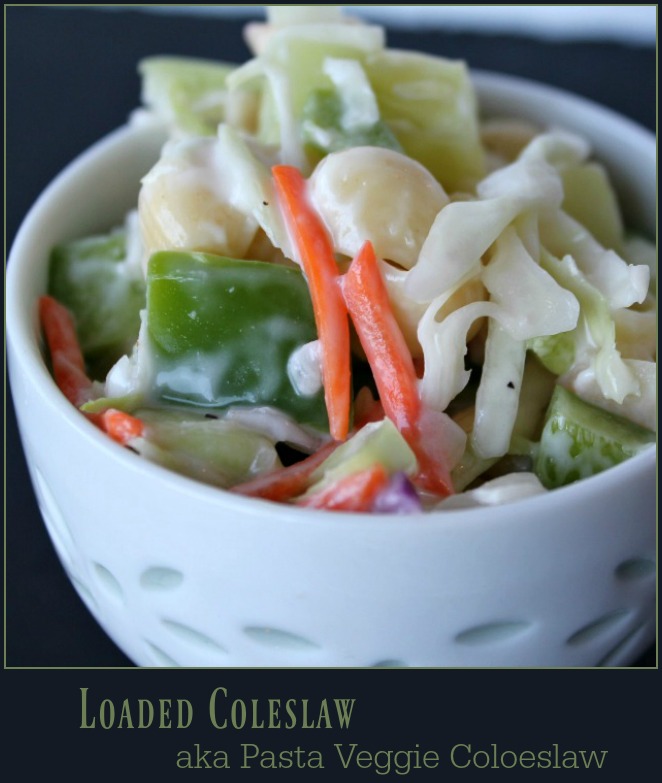 Author:
A Pinch of Joy by Charlene Vance
2 cups small pasta (I used small shells)
1 14 ounce package coleslaw mix
1 medium onion finely chopped
2 celery ribs, thinly sliced
1 medium cucumber, chopped
1 medium green pepper, chopped
1 8 ounce can whole water chestnuts, drained and chopped
1 ½ cup mayonnaise
¼ cup sugar
3 tablespoons vinegar
½ teaspoon salt
¼ teaspoon pepper
Cook pasta in SALTED water according to package directions. Drain and rinse in cold water, let cool slightly.
While pasta is cooking, place coleslaw mix in large bowl. Chop remaining vegetables and place in the bowl with coleslaw mix.
In small bowl, whisk the dressing ingredients together.
Add cooled pasta to large bowl with coleslaw mix and stir lightly.
Pour dressing over salad and toss to coat.
Cover and refrigerate at least two hours or overnight before serving.
Recipe by
A Pinch of Joy
at https://www.apinchofjoy.com/2016/08/loaded-coleslaw-aka-pasta-veggie-coleslaw/