White Chocolate Caramel Swirl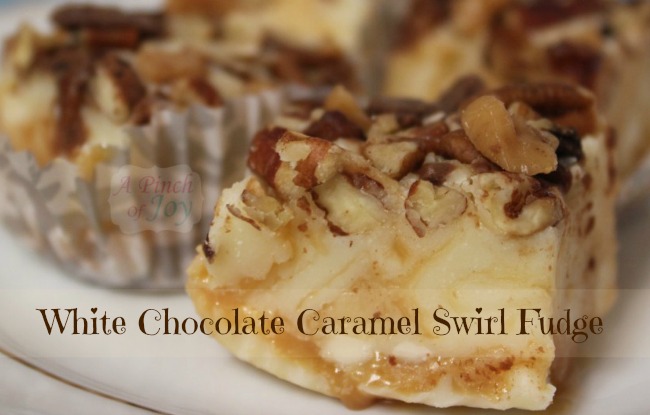 3 cups white chocolate chips
1 14 ounce can sweetened condensed milk
4 Tablespoons butter
½ package of caramels (about 30) plus 1 tablespoon of water
½ cup coarsely chopped pecans
⅓ cup toffee bits
Line 8x8 pan with waxed paper. This is a must. You might want to spray the pan with cooking spray before putting in the waxed paper. White chocolate sets up very firmly! You may have to work a spatula underneath one side to help it loosen.
Melt caramels and water in microwave until caramels lose shape, about 60 seconds. Stir and set aside.
Put Add white chocolate chips and butter in shallow microwavable bowl. Microwave for 90 seconds on 50% power and stir well.
Add milk and stir again, then microwave for additional 90 second interval and stir well.
If necessary, continue to microwave at 30 second intervals stirring well at the end of each 30 seconds. This may vary depending on your microwave. Stirring frequently prevents scorching.
When chips are melted, pour into waxed paper lined pan and top with melted caramel. Swirl and scoop caramel through the white chocolate mixture.
Top immediately with chopped pecans and toffee bits, pressing down slightly.
Refrigerate for two to three hours until firm.
Lift out using waxed paper "handles", slice and lose yourself in goodness!
Makes 64 one inch squares.
Recipe by
A Pinch of Joy
at https://www.apinchofjoy.com/2011/12/white-chocolate-caramel-swirl-fudge/