Chicken Pot Pie aka Turkey Pot Pie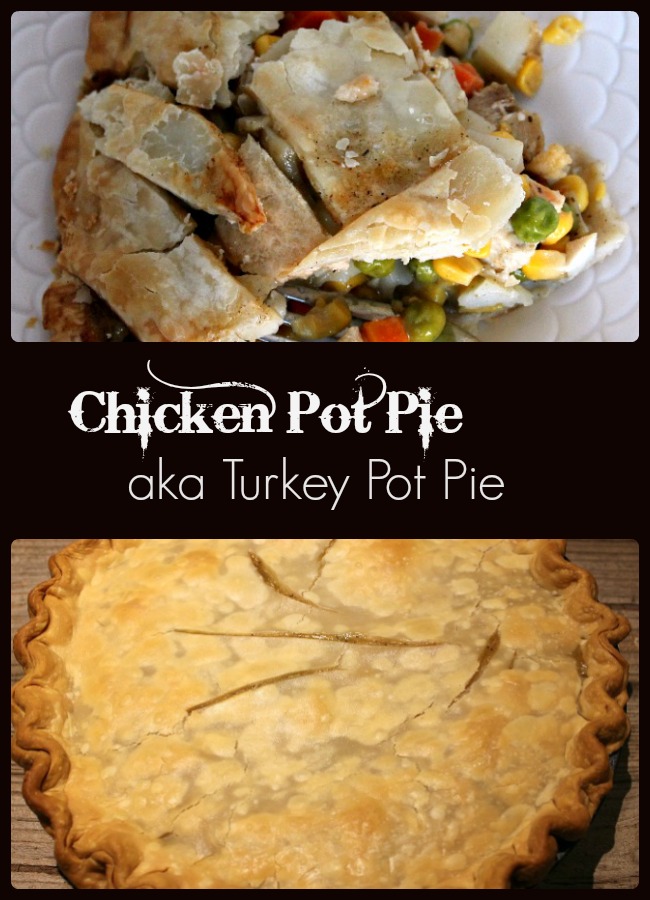 Author:
A Pinch of Joy by Charlene Vance
2 cups cooked chicken, cubed
2 18 - ounce jars chicken gravy
2 cups frozen diced hash browns OR 1 16 ounce package
2 cups frozen mixed vegetables OR 1 16 ounce package
1 medium onion, diced (about ½ cup)
1 teaspoon poultry seasoning
½ teaspoon garlic powder
¼ teaspoon pepper
½ teaspoon salt
two packages pie crust with 2 crusts each OR homemade crust for 2 double crust pies
In large mixing bowl, mix together gravy, onion and seasonings.
Cube chicken and add to gravy mixture, then add frozen potatoes and veggies. Mix well.
Press bottom crusts into two pie pans. Divide filling mixture evenly between the two pans.
Top each with second pie crust and crimp edges to prevent boil over. With sharp knife make two or three cuts in top crust.
Bake uncovered at 375 degrees for an hour and 15 minutes or until crust is done and golden brown.
You can freeze one or both unbaked pies for use later. Wrap tightly in foil before placing in the freezer.
Each pie makes six adult sized servings at 53 carbs and 18 grams of protein each.
Or eight smaller kid-sized servings at 40 carbs and 14 grams of protein each.
Recipe by
A Pinch of Joy
at https://www.apinchofjoy.com/2016/11/chicken-pot-pie-aka-turkey-pot-pie/