Pumpkin Spice Crunch Dump Cake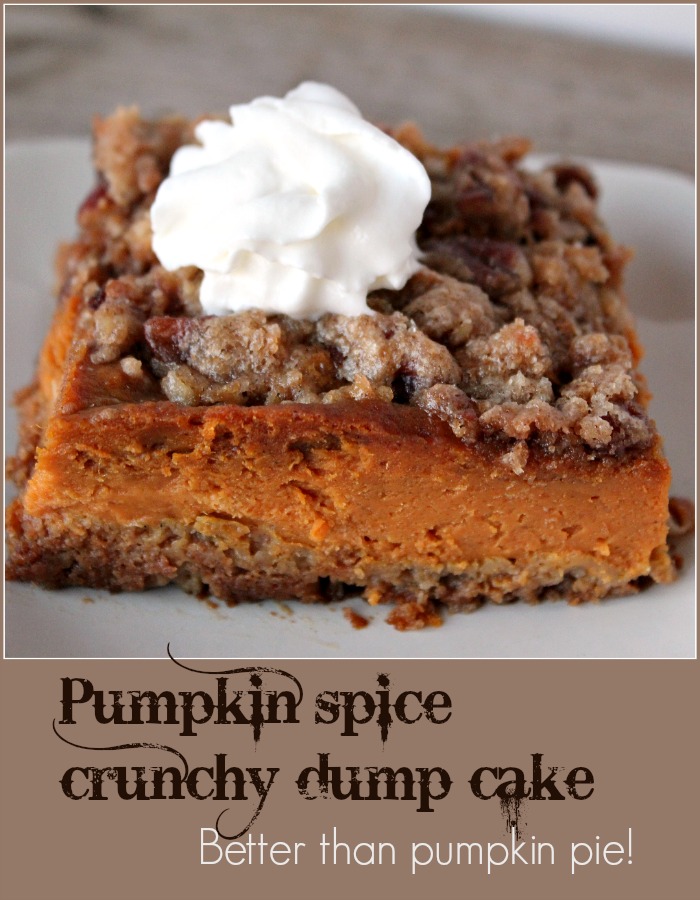 Author:
A Pinch of Joy by Charlene Vance
1 spice cake mix, set aside 1 cup
½ cup butter, softened
one egg
3 eggs
1 29 ounce can pumpkin puree OR 2 15 ounce cans
2 teaspoons cinnamon
1 teaspoon ground ginger
½ teaspoon ground cloves
½ cup brown sugar
½ cup sugar
1 cup evaporated milk
⅓ cup sugar
one cup of cake mix, reserved from crust
1 cup chopped pecans
½ cup coconut, shredded
⅓ cup butter
Preheat oven to 350 degrees. Spray bottom of 9 by 13 pan with cooking spray.
Combine cake mix, less the reserved 1 cup, and ½ cup butter. Mix until crumbly, then add egg.
Press mix evenly into bottom of 9x13 pan. Place in oven while mixing the filling, about 5 minutes.
Mix eggs and pumpkin puree together. Add spices and sugars, then evaporated milk. Stir together well.
Spread filling evenly over the partially baked crust.
Place sugar and cake mix in medium bowl, cut in butter until crumbly.
Stir in pecans and coconut, then sprinkle evenly over the pumpkin filling.
Bake at 350 for 1 hour or when a knife inserted in the middle it comes out clean. If necessary bake another 5 to 10 minutes
Cool before serving, add whipped topping or ice cream if desired
Recipe by
A Pinch of Joy
at https://www.apinchofjoy.com/2016/11/pumpkin-spice-crunchy-dump-cake/