Cheese and Spinach Stuffed Mushrooms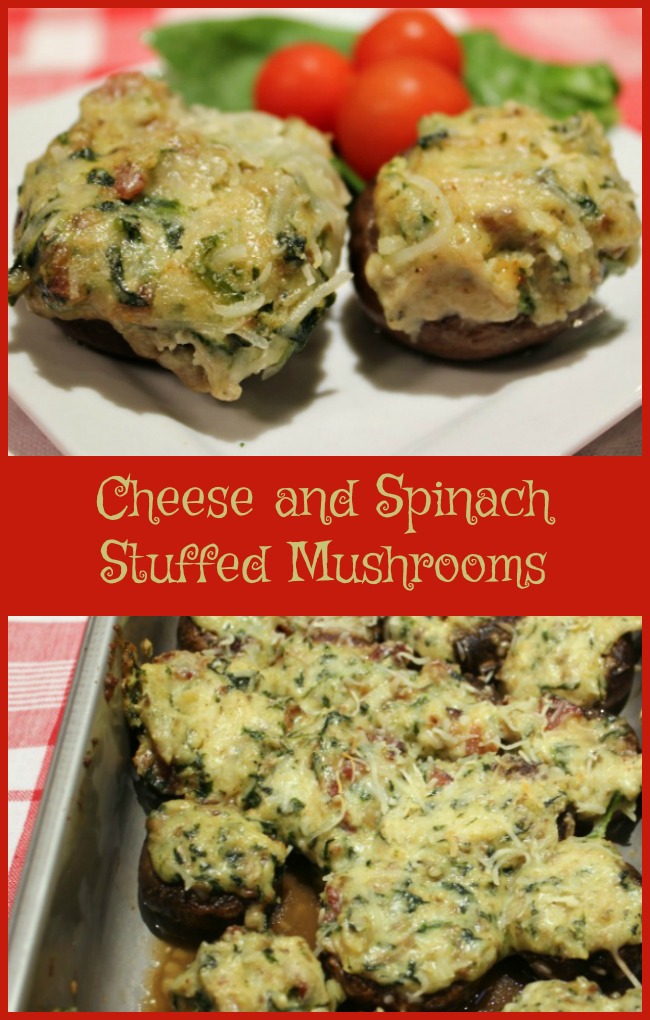 Author:
A Pinch of Joy by Charlene Vance
3 ounces fresh spinach
½ teaspoon minced garlic
1 tablespoon oil for cooking
16 ounce whole baby bella mushrooms
4 ounces cream cheese
one egg
½ cup mushroom stems, chopped
¼ cup Italian bread crumbs
1 cup Italian cheese mixture
salt and pepper to taste
additional ¼ cup Italian cheese mix for topping
Preheat oven to 350
Wash mushrooms and remove stems. Finely chop stems and set aside
Chop spinach into small pieces, add to preheated 8 inch skillet with 1 tablespoon of olive oil. Then add chopped mushroom stems and garlic. Stir well, cover and cook until spinach is tender, 8-10 minutes. Remove from heat
In medium mixing bowl, combine cream cheese, bread crumbs, Italian cheese mix, egg, salt and pepper. Mix thoroughly.
Add spinach, mushroom stems, and garlic to cheese mixture. Mix well.
Place mushroom caps into baking dish with open side up. Carefully fill mushroom caps with cheese mixture, pressing down lightly,
Sprinkle lightly with remaining Italian cheese.
Bake 17 to 20 minutes, until golden and mushrooms are tender.
Makes 12-18 stuffed mushrooms.
Recipe by
A Pinch of Joy
at https://www.apinchofjoy.com/2016/12/cheese-and-spinach-stuffed-mushrooms/