Crunchy Peanut Butter Chocolate Bars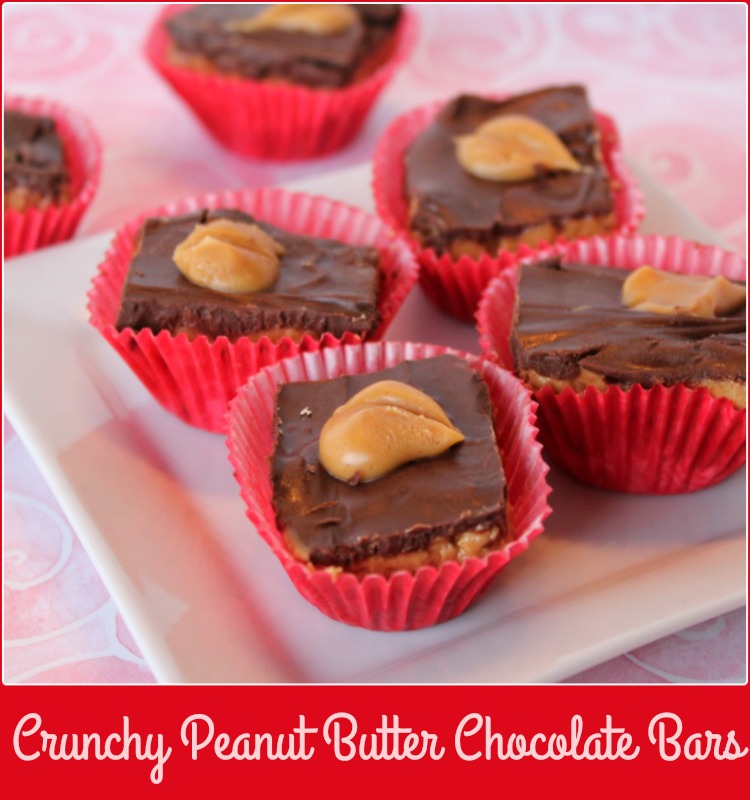 Author:
A Pinch of Joy by Charlene Vance
1 cup peanut butter
⅓ cup butter, melted
1 ¾ cups confectioners sugar
1 cup crushed graham crackers crumbs (about 9 sheets)
one cup semi sweet chocolate chips
2 Tablespoons peanut butter
2 Tablespoons peanut butter
1 Tablespoon butter, melted
Line bottom and two sides of 8 by 8 square baking pan with no stick foil, leaving two inch "handles" on two sides.
If necessary, crush graham crackers into crumbs and set aside.
Melt butter in microwave, about 30 seconds on high. Mix with peanut butter. Add graham cracker crumbs. Stir confectioner's sugar into peanut butter mixture, about half cup at a time.
Transfer mixture to prepared pan and smooth the top. If necessary you can pat the top with dampened hands to level and smooth out the mixture.
Combine chocolate chips and approximately two tablespoons peanut butter in small bowl. Melt in microwave about 30 seconds on high. Stir until smooth. Pour chocolate over peanut butter mixture in pan and spread evenly across the top.
In small bowl, melt 1 tablespoon butter. Add remaining peanut butter. Stir until smooth. Let set a few minutes to cool and thicken slightly.
Using small measuring spoon, drop rounds of peanut butter mixture on top of chocolate in baking pan, leaving about an inch between drops. Drag a skewer or toothpick quickly through the center of each round to create a heart shape.
Refrigerate until firm, about an hour. Cut into 1 inch squares
Using the foil overhang as handles lift candy from pan. Cut into 1½ inch square bars.
Store in refrigerator.
Recipe by
A Pinch of Joy
at https://www.apinchofjoy.com/2017/02/crunchy-peanut-butter-chocolate-bars/