Strawberry Swirl Cheesecake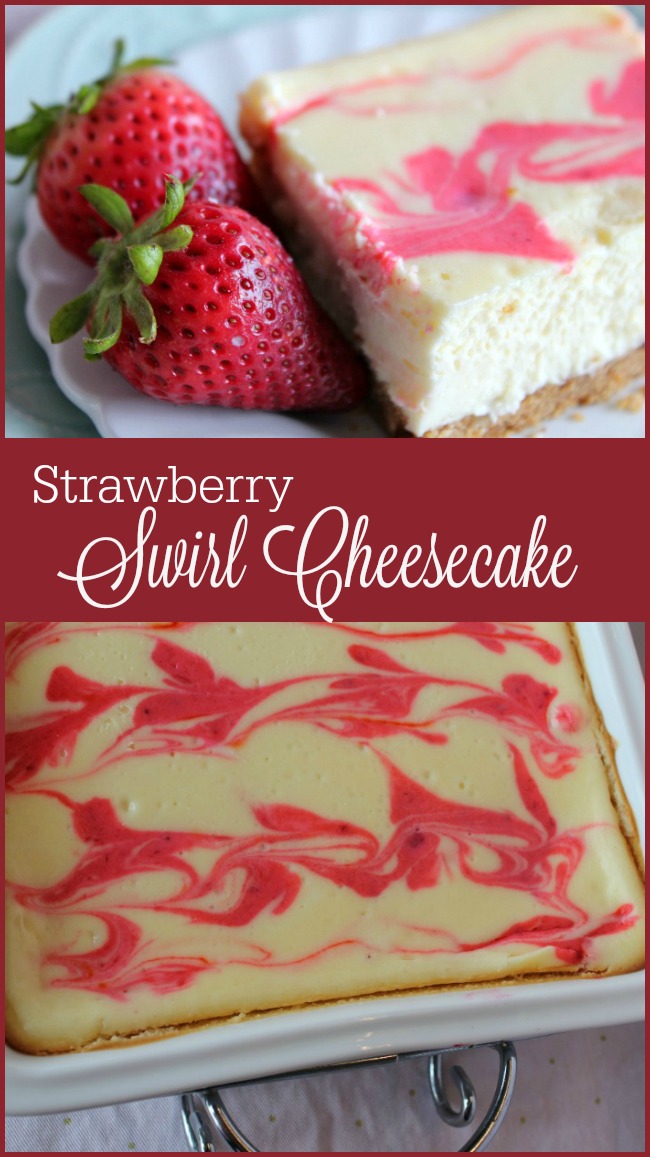 Author:
A Pinch of Joy by Charlene Vance
1¾ cups graham cracker crumbs
2 Tablespoons sugar
2 Tablespoons chopped pecans
½ cup butter, melted
3 8 ounce packages of cream cheese, softened
¾ cup sugar
⅔ cup sour cream
1 ½ teaspoon vanilla
1 Tablespoon cornstarch
3 eggs
¼ cup heavy cream
3 tablespoons sugar free strawberry jam
Red food coloring
Place graham cracker crumbs in bottom of 8x10 baking dish or 10 inch round cheesecake pan. Mix in sugar and chopped pecans.
Melt butter in microwave, approximately 30 seconds. Pour over crumb mixture and stir well so that butter is thoroughly distributed. Use a heavy glass to press mixture firmly into baking dish.
Bake for 10 minutes at 350. Remove from oven and set aside to cool. Turn oven down to 325 degrees.
Beat cream cheese, sugar, vanilla and cornstarch until fluffy.
Add eggs and heavy cream, mix well.
Remove ¾ cup of mixture and set aside to make strawberry swirl. Pour remainder evenly into cooled crust.
Mix strawberry jam into reserved cheesecake mixture. Add food coloring to desired shade.
Drop strawberry swirl by small spoonsful in an even grid over cheesecake. Use a thrusting movement up and down to work the dropped swirl mixture into the cheesecake itself. When completed, insert a small knife blade or something similar in the center of each dot of swirl mixture and gently create swirls.
Bake at 325 for 35 minutes until edges are just golden brown. Knife inserted in middle will come out clean when cheesecake is done.
Cool and refrigerate until ready to serve, at least two hours or overnight is best.
Serve with fresh sliced strawberries, if desired.
Recipe by
A Pinch of Joy
at https://www.apinchofjoy.com/2017/04/strawberry-swirl-cheesecake/