Ginger Orange Chicken Baked Stir Fry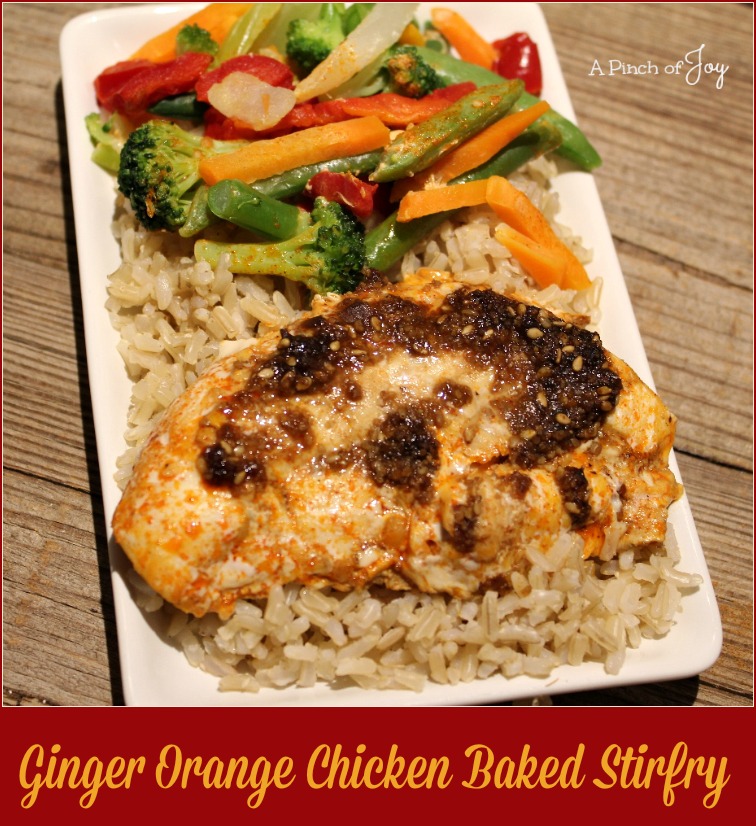 Author:
A Pinch of Joy by Charlene Vance
1 16 ounce package of chicken tenders
2 tablespoon olive oil
1 tablespoon paprika
2 tablespoons minced garlic
Salt and pepper to taste
½ cup stirfry sauce
2 tablespoons soy sauce
1 teaspoon grated orange peel, dried
1 teaspoon ground ginger
2 teaspoons sesame seed
1 16 ounce package stir fry vegetables
2 packages of frozen brown rice
and pepper. Set aside 2-3 tablespoons in refrigerator and pour remainder into bag. Seal and shake to coat chicken with mixture. Let marinate for several hours or overnight.
Preheat oven to 450 degrees.
For chicken: Spray a rimmed cookie sheet with cooking spray. Place chicken in pan. Season with paprika, garlic powder, salt and pepper. In small bowl, mix together stir fry sauce, soy sauce, orange peel and ginger and spread over chicken. Sprinkle sesame seeds over chicken. Place in oven. Roast for 15-17 minutes until done. Chicken should be 165 degrees.
For vegetables: Spray a 9x13 pan with cooking spray. Spread frozen stir fry vegetables evenly over pan. Drizzle with reserved orange ginger sauce. Place in oven. Roast about 15 minutes.
Microwave brown rice according to package directions. (OR cook desired amount of brown rice according to package directions.)
Serve vegetables and chicken atop rice.
Calories:
400
Carbohydrates:
52
Protein:
34
Recipe by
A Pinch of Joy
at https://www.apinchofjoy.com/2017/11/ginger-orange-chicken-baked-stir-fry/