Strawberries and Cream Scones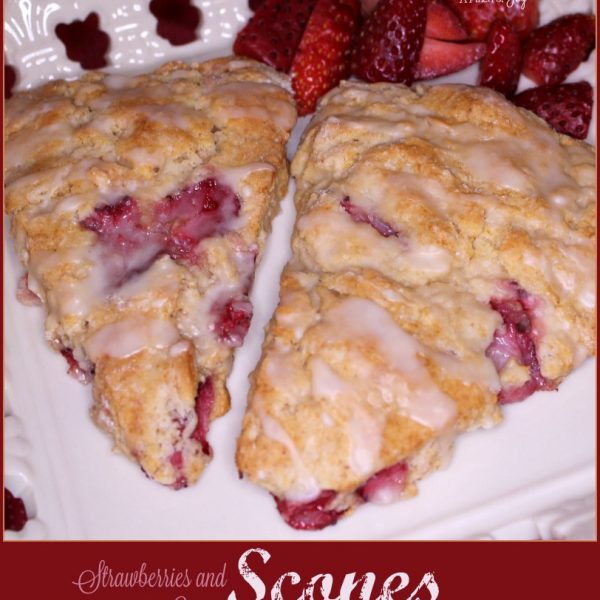 Author:
A Pinch of Joy by Charlene Vance
2 cups flour
1 tablespoon baking powder
½ teaspoon salt
⅓ cup sugar
6 tablespoons cold butter, sliced
½ cup cream
1 large egg
1 teaspoon vanilla
1 cup strawberries, coarsely chopped
1 cup powdered sugar
2 tablespoons cream
½ teaspoon vanilla
Preheat oven to 400. Line large baking sheet with parchment paper.
Prepare berries. This can be done at an earlier time, as well.
Measure flour, baking powder, alt and sugar into large mixing bowl and whisk lightly to mix dry ingredients together.
Slice cold butter into the dry ingredients. Using a pastry cutter or fork, cut better into the dry ingredients until coarse pea sized crumbs form.
In a small mixing bowl, whisk together the cream, egg and vanilla until well mixed. Pour the egg mixture into the dry ingredients and stir gently until the dough begins to form a ball.
Add chopped strawberries and carefully fold into the dough. Do not over mix. The dough will be crumbly and strawberries will still be loose.
Turn dough out onto lightly floured surface and gently knead the berries and moisture into the dough. When it holds together, press it into a circle about an inch thick.
Cut the circle into 8 equal pieces and place on the lined baking sheet, leaving a small space between them. Bake at 400 for 15 – 18 minutes until lightly golden brown.
Let cool for 10-15 minutes on the baking sheet and then remove to cooling rack.
While scones are cooling on the rack whisk together all the glaze ingredients until smooth. If needed add additional liquid or powdered sugar to achieve a consistency that will flow easily from a teaspoon.
Moving quickly, distribute the glaze equally over the 8 scones. Let set until glaze hardens, about 10 minutes.
Recipe by
A Pinch of Joy
at https://www.apinchofjoy.com/2018/01/strawberries-and-cream-scones/