Easy Ravioli and Sausage Lasagna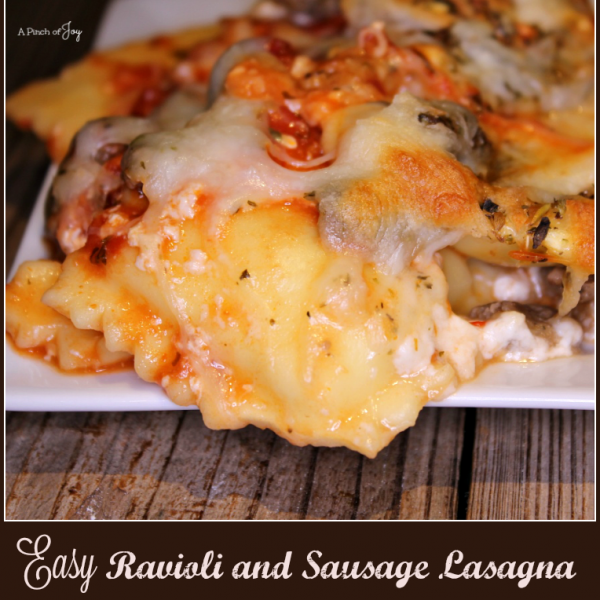 Author:
A Pinch of Joy by Charlene Vance
24 ounce jar tomato based pasta sauce
25 ounce (approx.) package frozen ravioli
½ cup chopped onion
11 ounce (approx.) package sausage crumbles
1 cup cottage cheese
2 cups shredded mozzarella cheese
½ cup shredded Parmesan cheese
1 Tablespoon Italian seasoning
Preheat oven to 375. In the meantime assemble the Ravioli Lasagna.
Spray a 9x13 pan lightly with cooking spray. Spread a thin layer of pasta sauce on the bottom of the pan, about 3-4 tablespoons.
Place about half of the ravioli in the bottom of the pan, laying them so the ravioli makes a single layer.
Top evenly across the ravioli with ¼ cup chopped onion, half the package of sausage crumbles, ½ cup cottage cheese and half the bag of mozzarella cheese. Pour half of the remaining pasta sauce evenly over the top.
Repeat beginning with a second layer of ravioli and adding the remaining half of the other ingredients.
Top with the Parmesan cheese and the Italian seasoning, sprinkling both evenly over the pan.
Cover with foil.
Bake covered for 45 minutes until hot through. Remove foil and bake about 15 minutes more until edges are golden and bubbly.
Carbohydrates:
48 carbs
Protein:
34 grams
Recipe by
A Pinch of Joy
at https://www.apinchofjoy.com/2018/02/easy-ravioli-and-sausage-lasagna/