Seriously Delicious Chicken Noodle Soup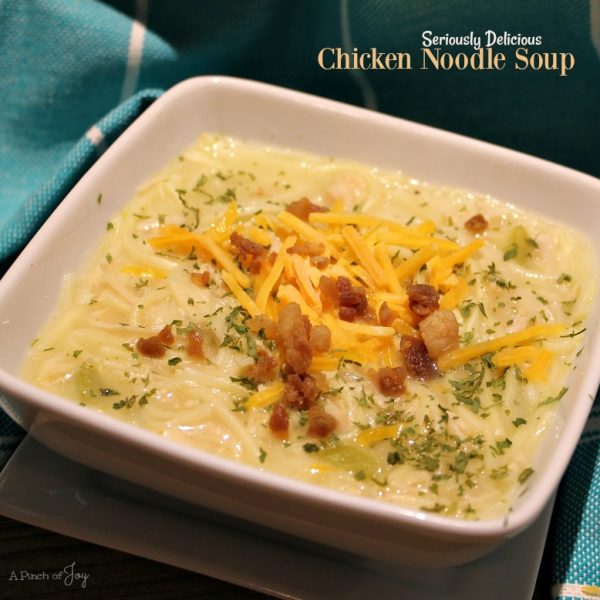 Author:
A Pinch of Joy by Charlene Vance
2 stalks celery, thinly sliced
2 carrots, thinly sliced (for color, optional)
½ medium onion, diced
2 tablespoons olive oil
1 10 ounce can condensed cream of chicken soup, lower sodium or heart healthy
5 cups chicken broth, low sodium
1 cup milk
1 cup water
1 package Ranch salad dressing mix
3 cups diced cooked chicken
8 ounces fine egg noodles, dried and uncooked
8 pieces low sodium bacon, chopped and crisp fried
1 cup shredded cheese
2 tablespoons parsley flakes or chopped fresh parsley
Pour oil into large stock pot or Dutch oven. Add vegetables and saute until vegetables begin to soften, about 5 minutes.
Add condensed cream of chicken soup, chicken broth, milk and water.
Whisk in Ranch salad dressing mix, until well mixed.
Add chicken. Cover and bring to boil over medium heat. Reduce to simmer and cook for 20 minutes.
Stir in noodles. Cook uncovered for about 5 minutes, until noodles are soft.
Ladle into bowls and garnish with a large pinch of shredded cheese (about two tablespoons full). Add real bacon pieces, about a teaspoon full atop each bowl. Finish with parsley flakes or chopped fresh parsley, lightly sprinkled over all.
Recipe by
A Pinch of Joy
at https://www.apinchofjoy.com/2018/02/seriously-delicious-chicken-noodle-soup/