Creamy Chicken and Wild Rice Soup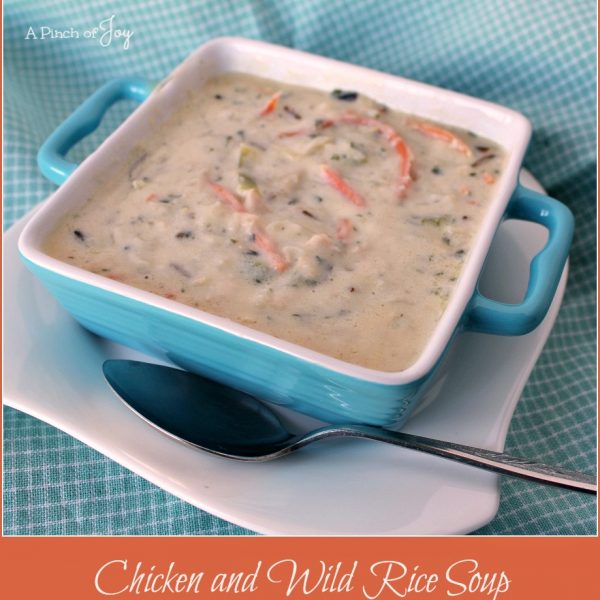 Author:
A Pinch of Joy by Charlene Vance
6 cups low sodium chicken broth
1 cup diced cooked chicken breast
1 6 ounce package long grain and wild rice blend
½ teaspoon black pepper
½ cup flour
⅔ cup butter (10 tablespoons)
1 cup shredded carrots
1 cup celery, diced
1 medium onion, chopped (about 1 cup)
3 cups cream
Cook chicken, if needed. In the meantime, in small bowl or measuring cup, combine pepper and flour. Set aside. Measure cream and set aside.
Pour broth into soup pot. Add chicken. Bring to boil over medium heat. Open rice and set aside seasoning packet. Stir in rice, cover and simmer.
In meantime, melt butter in medium saucepan or skillet over medium heat.
While butter is melting, dice celery. Add celery to melted butter and reduce heat to medium low.
Chop onions and add to butter in pan.
Measure shredded carrots. Add to butter, onion, celery mixture. Stir in seasoning packet. Push vegetables to one side and continue cooking until vegetables are softened.
Gradually add seasoned flour to vegetables and butter, stirring constantly to make a roux.
Whisk cream into the roux, a bit at a time, until it is all mixed in and smooth. Cook just until thickened.
Add thickened cream and vegetable mixture into simmering broth and rice. Continue to simmer for additional 10-15 minutes until rice is done.
Carbohydrates:
14
Protein:
12 grams
Recipe by
A Pinch of Joy
at https://www.apinchofjoy.com/2018/03/creamy-chicken-and-wild-rice-soup/