Chocolate Buttermilk Sheet Cake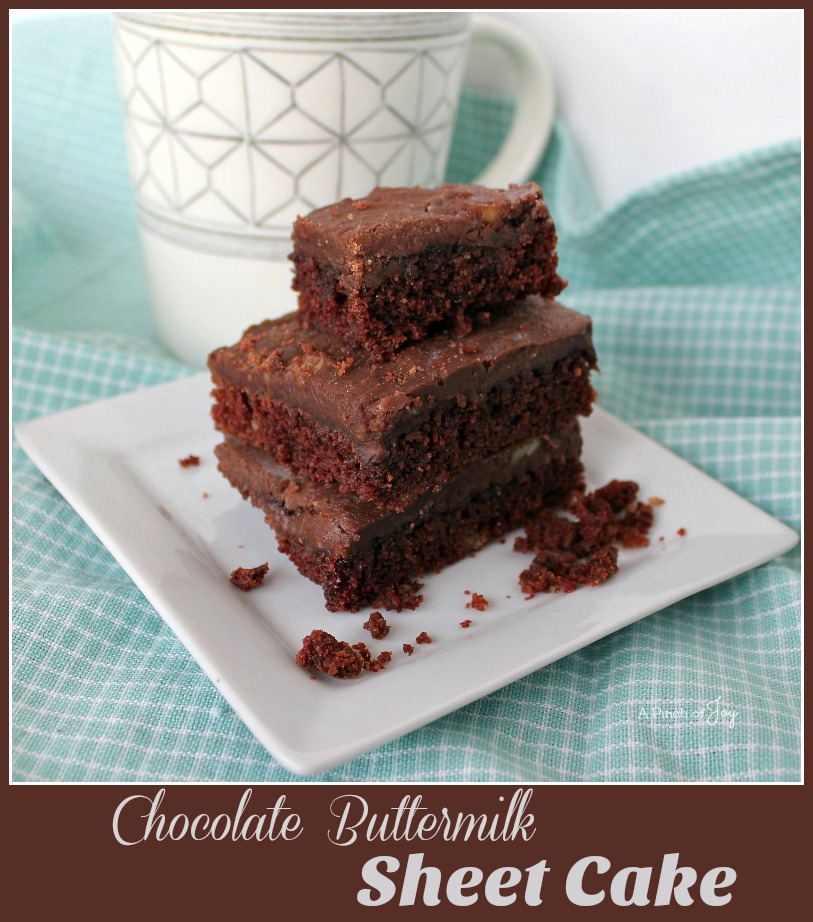 Author:
A Pinch of Joy by Charlene Vance
2 cups flour
2 cups sugar
¼ teaspoon salt
¼ cup cocoa, rounded
1 cup butter (2 sticks)
1 cup boiling water
½ cup buttermilk
2 eggs, lightly beaten
1 teaspoon baking soda
1 teaspoon vanilla
½ cup chopped walnuts
1-3/4 stick Butter
¼ cup cocoa, rounded
⅓ cup milk
1 teaspoon vanilla
3 cups powdered sugar, plus ¼ cup if needed
Preheat oven to 350 degrees.
Prepare large sheet pan with cooking spray OR butter and flour.
Combine flour, sugar, and salt in large mixing bowl.
Melt butter in medium saucepan. Stir in cocoa.
While butter is melting, heat 1 cup water in microwave for 90 seconds on high. Add hot water and bring mixture to full boil for 30 seconds, then turn off heat. Pour over flour mixture, and stir lightly to cool.
In two cup measure, pour the buttermilk to half cup mark. Add beaten eggs, baking soda, and vanilla. Stir buttermilk mixture into butter/chocolate mixture. Pour into sheet cake pan and bake at 350-degrees for 20 minutes.
While cake is baking, make the icing.
Chop walnuts into small pieces, while butter is melting.
Melt butter in a medium saucepan over low heat.
Add cocoa to melted butter, stir until combined, then turn off heat.
Add milk, vanilla, and powdered sugar to cocoa mixture. Stir well, until butter is fully incorporated. If frosting seems too thin, add up to ¼ more powdered sugar.
Stir in nuts and pour over slightly cooled cake.
Recipe by
A Pinch of Joy
at https://www.apinchofjoy.com/2018/08/chocolate-buttermilk-sheet-cake/