Lemon Mustard Vinaigrette Chicken Sandwich on Artisan Bread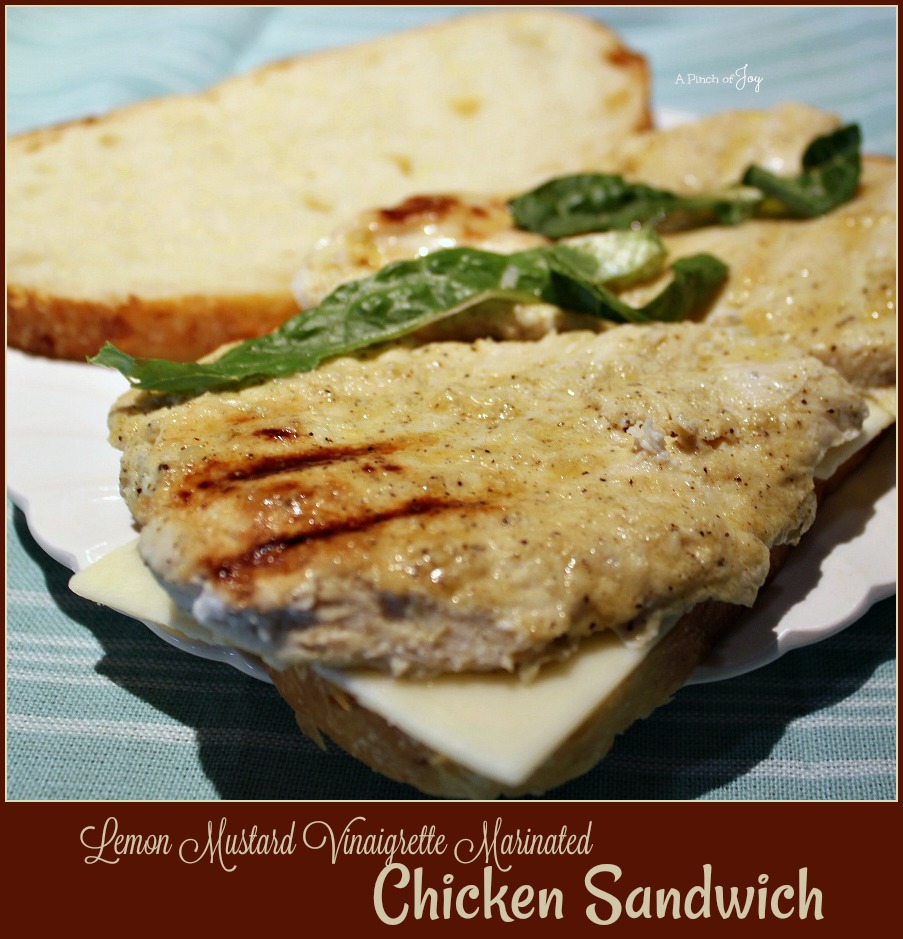 Author:
A Pinch of Joy by Charlene Vance
5 large chicken breast pieces, sliced about ½ " thick
1 loaf, artesian bread, sliced
5-10 slices of provolone or other mild cheese
Your choice of sandwich toppings, such as lettuce and tomato
3 Tbsp minced garlic
½ cup olive oil
¼ cup lemon juice
1 tsp dried lemon peel
1 tsp coarse ground pepper
1 Tbsp Dijon mustard
1 Tbsp honey
Salt, to taste
Thaw chicken.
Whisk together all marinade ingredients in small bowl. Pour about ⅔ of the marinade into a gallon zipper bag. Set aside the remaining one third to brush on chicken OR to use as dressing on the sandwich. Place thawed chicken breast in zipper bag with marinade and close tightly. Let marinade for 2-3 hours in the refrigerator.
Preheat grill. Remove chicken from marinade and place on grill. Discard remaining liquid and the bag.
Cook for 3-4 minutes on each side or until thermometer shows 160 F. Don't overcook. While cooking brush additional marinade (from snack size baggie) on chicken OR serve as a sauce on the sandwich.
Serve on bakery fresh artisan bread with sandwich toppings of choice!
Recipe by
A Pinch of Joy
at https://www.apinchofjoy.com/2018/10/lemon-mustard-vinaigrette-chicken-sandwich-on-artisan-bread/