Slow Cooker Sausage and Egg Casserole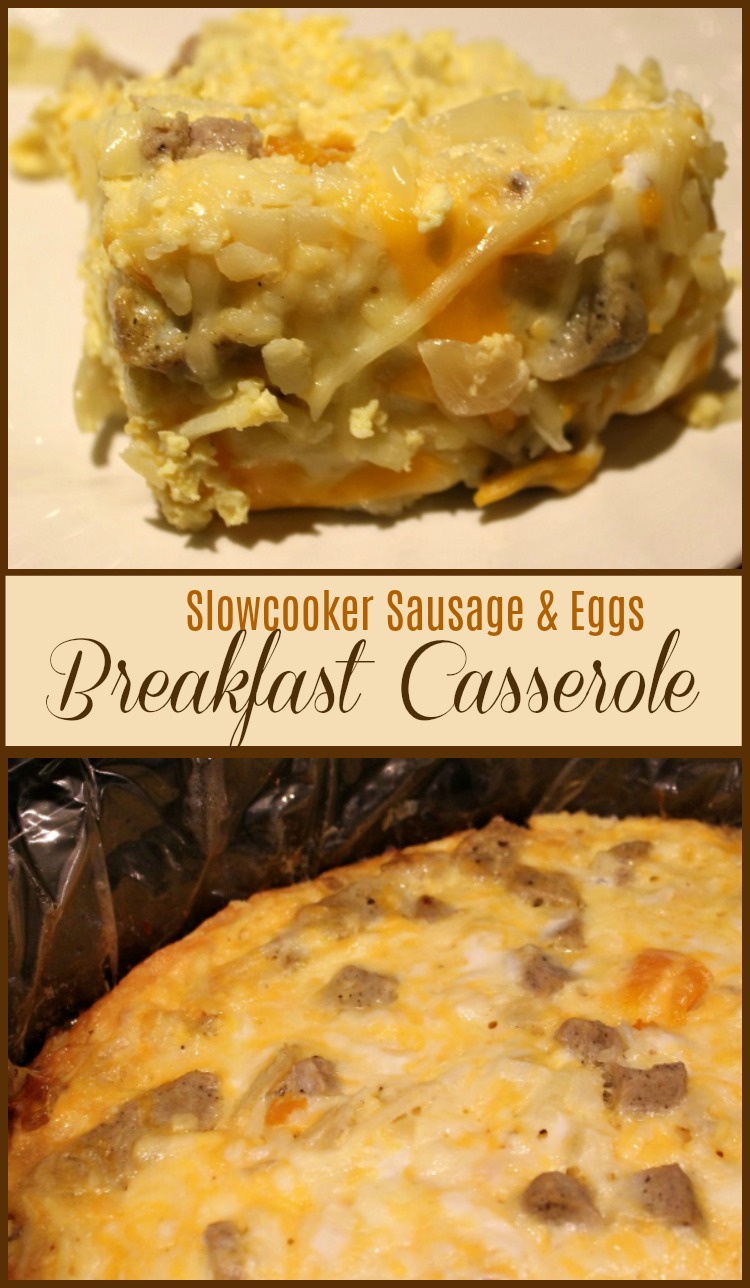 Author:
A Pinch of Joy by Charlene Vance
1 pound sausage, your choice
1 small onion, chopped (about ½ cup)
½ red bell pepper, seeded and chopped
1 clove garlic, minced
3 cups frozen hash brown potatoes, thawed
1½ cups shredded Cheddar cheese
12 eggs
1 cup whole milk
½ teaspoon salt
1 teaspoon black pepper
½ cup shredded cheese, additional to sprinkle over top of casserole
Line slow cooker with cooking bag and spray with cooking spray.
Place sausage in a large skillet and cook over medium-high heat, stirring occasionally, until browned, about 10 minutes.
Chop onion, dice red bell pepper and mince garlic. Place in large bowl.
Add sausage, potatoes and 1 ½ cups shredded cheese. Stir until mixed. Spoon evenly in crock pot.
Whisk eggs, milk, salt, and pepper together in a bowl; pour over ingredients in slow cooker.
Cook on low,for 6 hours, until eggs are set in the middle and the edges are beginning to turn brown. Sprinkle ½ cup shredded cheese over top of casserole and let set covered for about 10 minutes before serving.
Mix sausage, onion, bell pepper, seasoning, potatoes and 1½ cup cheese in a gallon zipper bag. Place additional ½ cup shredded cheese in zipper sandwich bag to use for topping and add to gallon bag. Thaw this bag overnight before cooking.
Whisk eggs and milk in large bowl and place in gallon zipper bag that is securely closed. Place entire bag in second bag and make sure it is securely closed (to avoid cleaning freezer if there is a leak) Thaw overnight before cooking.
OR
Whisk eggs and milk together when you are ready to cook the casserole.
Line crockpot with disposable liner and spray with cooking spray
Place thawed package of sausage, vegetables and cheese in bottom of slowcooker.
Pour the egg mixture evenly over the mixture.
Cover and cook on low for 6 hours. Sprinkle half cup reserved shredded cheese over the cooked casserole, cover and let set for about 10 minutes until cheese is melted.
Calories:
352
Carbohydrates:
18 g
Protein:
23 g
Recipe by
A Pinch of Joy
at https://www.apinchofjoy.com/2019/01/slow-cooker-sausage-and-egg-casserole/