Macaroni and Cheese Bites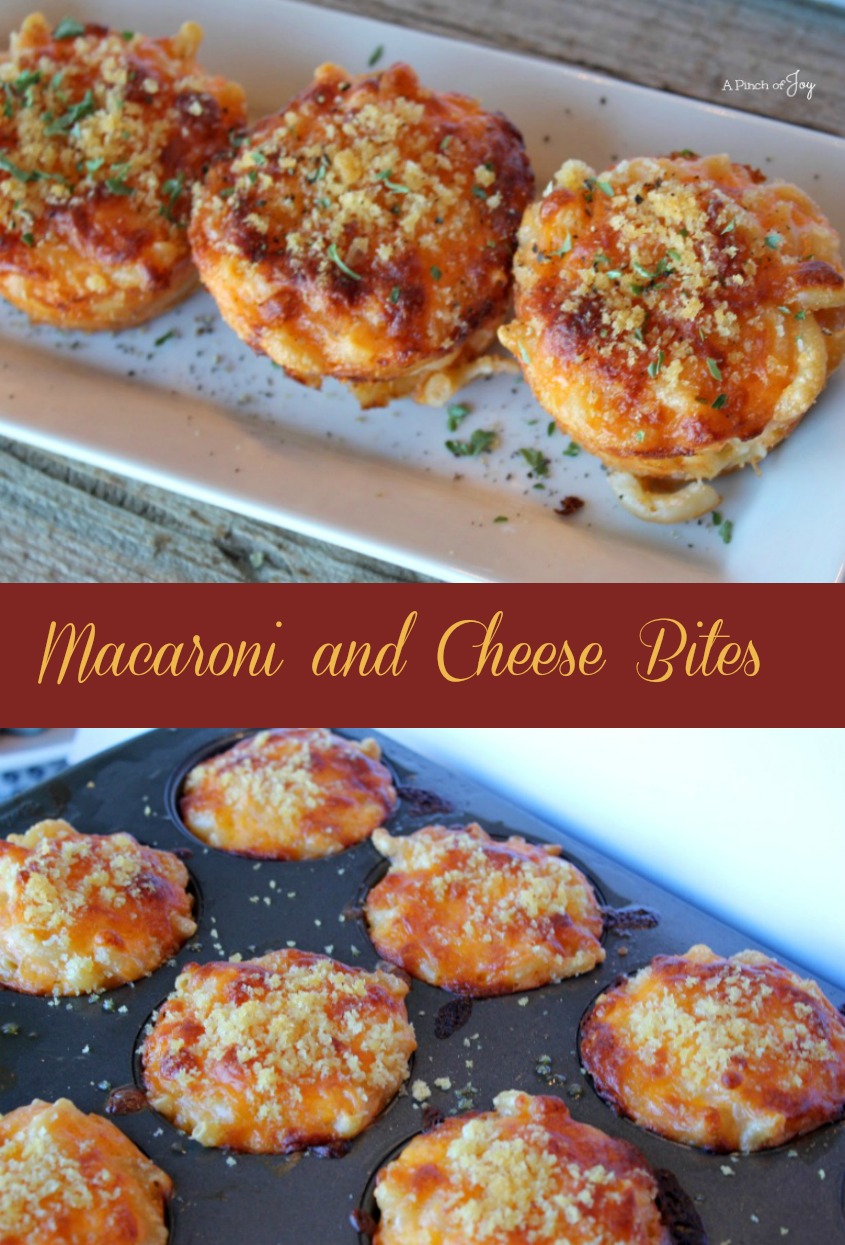 Author:
A Pinch of Joy by Charlene Vance
2 c. uncooked macaroni
1 tbsp. butter
1 large egg
1 tbsp. onion powder
1 tbsp. garlic powder
1 c. milk
3 oz. cream cheese, softened
2 c. shredded cheddar, divided
2 c. shredded fontina, divided
¼ c. panko bread crumbs
1 tbsp. extra-virgin olive oil
Freshly ground black pepper
Chopped fresh parsley, for garnish
Preheat oven to 350°. Spray muffin tin with cooking spray.
Bring salted water to boil. Add macaroni. Return to boil and cook 5 minutes. Pasta should be firm.
While pasta is cooking:
a. Beat egg in small bowl. Measure butter.
b. Measure milk, stir in onion and garlic powder and set aside.
c. Cut cream cheese in small chunks to melt evenly. Set aside
d. Open packages of shredded cheese. Mix together and set aside ⅓ cup from each package.
When macaroni is done, drain water. Pour pasta into large bowl. Add butter. Pour egg evenly over macaroni, stirring as you pour. Butter should melt and egg should coat pasta thoroughly.
Add milk and cream cheese to mixture and stir gently.
Add 1⅔ cups of each cheese and stir until combined.
Fill prepared muffin cups, dividing macaroni and cheese evenly. Top with remaining cheese.
Mix olive oil and panko together and sprinkle evenly on each macaroni muffin.
Bake until cheesy macaroni feels firm when pushed gently with back of spoon, about 30 minutes. Cheese will be golden and starting to brown around the edges.
Let cool in muffin for 10 minutes. Run a knife around the edge of each muffin to loosen before removing from the pan.
Garnish with fresh ground pepper and chopped parsley before serving.
For each small Mac and Cheese Bite: 105 calories, 6 g carbs and 5 g protein
Calories:
314
Carbohydrates:
18 g
Protein:
15 g
Recipe by
A Pinch of Joy
at https://www.apinchofjoy.com/2019/01/macaroni-and-cheese-bites/