Quick and Easy Chicken Marsala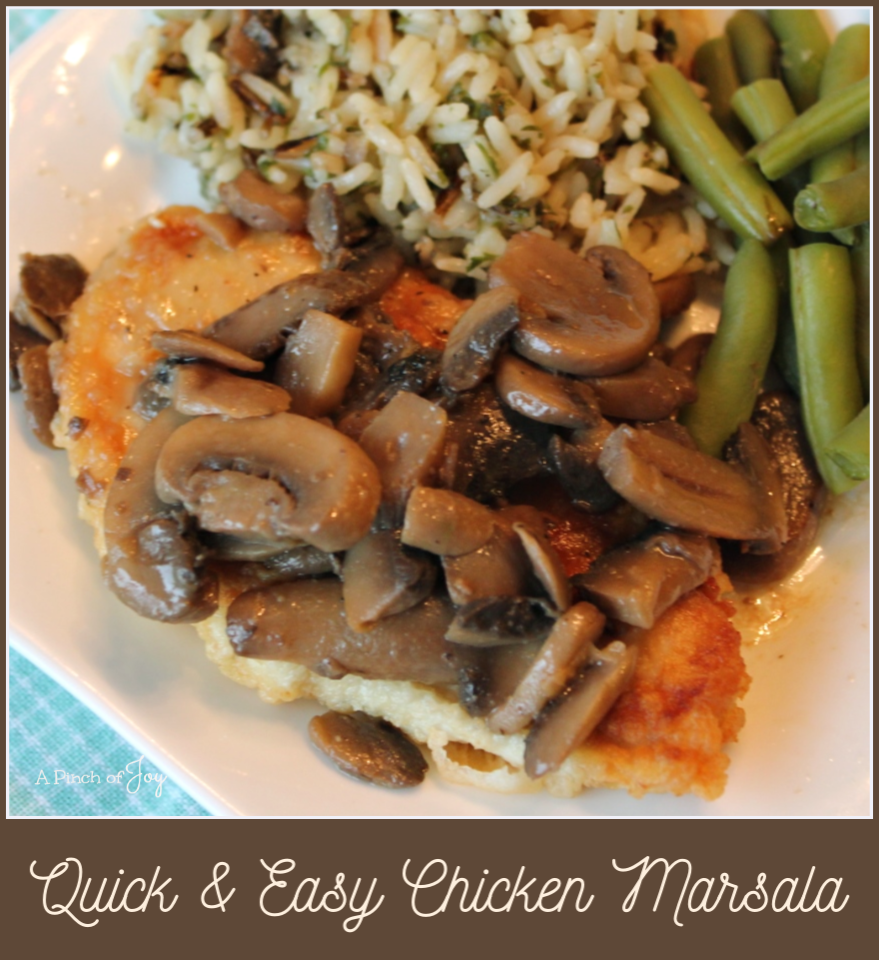 Author:
A Pinch of Joy by Charlene Vance
Cuisine:
Italian American
5 chicken breast fillets
2 Tbsps butter
1 8 ounce package mushrooms, sliced
½ cup Marsala wine
½ cup chicken stock
2 Tbsp heavy cream
½ cup flour
1 8 ounce box pasta of your choice, cooked according to directions--optional.
Thaw overnight in refrigerator
If using pasta, begin cooking according to directions.
Heat oil over med-high heat. Season chicken with salt and pepper and dredge in flour.
Sauté each piece of chicken for 3-4 minutes on each side until they are golden brown.
Remove chicken and place them on your serving platter covering them with foil. Remove excess oil from pan.
Reduce heat to medium and add butter and mushrooms. Sauté for 4-5 minutes seasoning with salt and pepper.
Mix wine, chicken stock and heavy cream in a small bowl. Add flour whisking briskly to make sure it is thoroughly mixed. Pour over mushrooms in skillet. Bring to low boil and allow to reduce slightly 3-5 minutes.
Place 5 chicken breasts in a gallon sized zipper bag. Press out air and seal. Put sealed bag in a second gallon bag.
Add the following three bags to the second bag, seal, label and freeze until needed.
In the first quart sized baggie, place
Tbsp butter
ounce pkg sliced mushrooms
In second quart sized baggie, place
½ cup Marsala Wine
¼ cup chicken stock
¼ cup dry white wine
Tbsp heavy cream
In a snack sized baggie, place
½ cup flour
To cook, follow directions above.
Calories:
332
Carbohydrates:
25 g
Protein:
25g
Recipe by
A Pinch of Joy
at https://www.apinchofjoy.com/2019/08/quick-and-easy-chicken-marsala/