Wilton Buttercream Cake Icing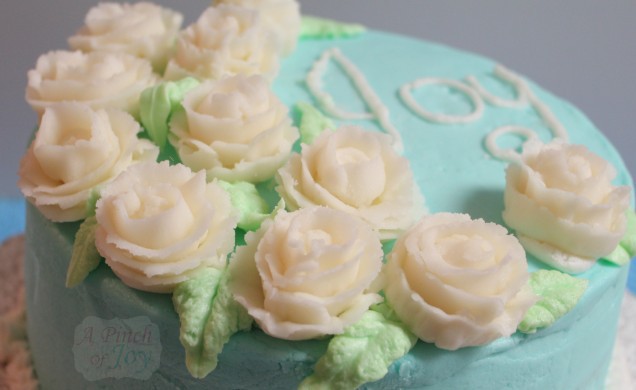 Author:
Charlene - A Pinch of Joy
1 cup solid white vegetable shortening
1 teaspoon flavoring (vanilla, almond or butter)
7-8 teaspoons milk or water
1 pound confectioners' sugar
1 tablespoon Wilton Meringue powder
¾ cup cocoa OR 3 1 oz unsweetened chocolate squares, melted
1 - 2 teaspoons water or milk
Cream shortening, flavoring and water/milk until well mixed.
Add confectioner's sugar and meringue powder and mix at low speed until well mixed.
Blend for an additional minute until creamy.
Makes 2 ½ cups stiff consistency frosting. (See Notes below.)
Keeps a week in the refrigerator and freezes well.
_Stiff consistency is used for decorations that will be upright, like roses.
Medium consistency is used for stars, borders, and flat petalled flowers. Add 1 tsp of water or milk per cup of stiff icing.
Thin consistency is used for icing, writing and making leaves. Add 2 tsp water or milk per cup of stiff icing. For writing, Wilton recommends that you also add ½ teaspoon of piping gel per cup of thin icing, to help the icing "stretch" and not break as you write.
Frosted cakes will stay fresh in freezer up to six months. Defrost a frozen cake unwrapped to prevent condensation forming on the frosting and ruining it.
This recipe and directions are from Wilton Cake Decorating instruction manuals. For more information, visit their website. _
Recipe by
A Pinch of Joy
at https://www.apinchofjoy.com/2012/05/buttercream-cake-icing/