Garlic Chicken and Spinach Pizza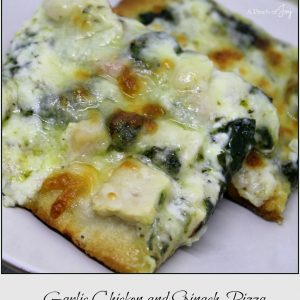 Author:
A Pinch of Joy by Charlene Vance
Cuisine:
Italian inspired
1 cup cooked and diced chicken breast
salt and pepper, to taste
6 oz package of spinach, chopped (approx.. 4 cups)
1 cup cottage cheese
2 Tablespoons garlic paste
½ teaspoon dried thyme
¼ teaspoon dried oregano
¼ teaspoon dried basil
¼ cup yellow cornmeal
(13.8-ounce can) refrigerated classic pizza crust
8 ounces mozzarella cheese
Preheat oven to 450 degrees F. Line a baking sheet with parchment paper OR lightly oil the pan with olive oil.
Heat 1 tablespoon olive oil in the skillet. Add diced red pepper. Stir in spinach until just wilted, about 2-3 minutes; season with salt and pepper. Set aside.
In a small bowl, whisk together cottage cheese, thyme, oregano, basil and garlic paste; season with salt and pepper, to taste. With whisking, the cottage cheese curds should start to break down, but still maintain some texture.
Sprinkle cornmeal onto the parchment paper. Open the package of pizza dough and place the rectangle in the middle of the baking sheet. Using a rolling pin or your fingers press out the pizza dough to approximately 11 x 14 inches.
Top with mozzarella, dollops of cottage cheese mixture, chicken and spinach.
Place into oven and bake for 15-20 minutes, or until the crust is golden brown and the cheeses melted.
Serve immediately.
Serving size:
1 piece
Calories:
66,
Carbohydrates:
15 grams,
Protein:
12 grams,
Recipe by
A Pinch of Joy
at https://www.apinchofjoy.com/2020/03/garlic-chicken-and-spinach-pizza/