Deviled Egg Salad Sandwich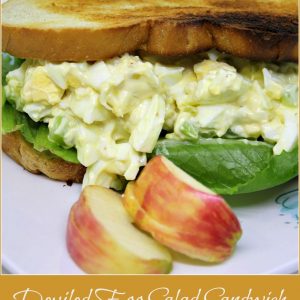 Author:
A Pinch of Joy by Charlene Vance
6 hard boiled eggs
¼ cup chopped onion
¼ cup finely diced celery
3 Tablespoons mayonnaise
2 teaspoons Dijon mustard
2 teaspoons pickle relish
8 slices bread, whole wheat (or your choice)
½ cup greens (baby spring, lettuce, etc)
Boil eggs and set aside to cool.
Chop onion and dice celery.
Mix together in medium bowl mayonnaise, mustard, and pickle relish.
Peel and chop eggs, add to mayonnaise mixture.
Toast the slices of bread. Lay out greens on one slice of bread, scoop egg salad onto toasted bread and greens. Top with a second slice of toast. Repeat until all sandwiches are made.
Nutrition figures are estimates only. For this recipe, they apply only to the egg salad filling. Bread values will depend on the bread used. Check the package label for values.
Serving size:
1
Calories:
193
Carbohydrates:
3 grams,
Protein:
10 grams,
Recipe by
A Pinch of Joy
at https://www.apinchofjoy.com/2020/04/deviled-egg-salad-sandwich/