Italian Chicken Breast with butter lemon sauce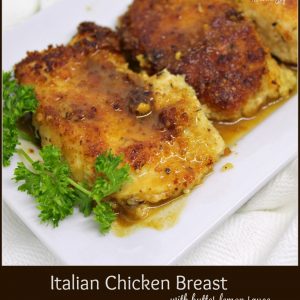 Author:
A Pinch of Joy by Charlene Vance
Recipe type:
Quick and Easy Chicken
6 boneless skinless chicken breasts
¾ cup Italian bread crumbs
1 egg, beaten
3 tablespoons olive oil
4 Tablespoons butter
¼ cup lemon juice
½ teaspoon Italian Herb seasoning
Thaw chicken in refrigerator overnight. If necessary cut chicken into uniform slices so it will cook evenly.
Place large skillet over medium heat and add olive oil.
Beat egg. Quickly dip chicken into egg and then into the bread crumbs. Add to preheated oil in skillet.
Cook chicken about 5 minutes on each side until fully cooked. Remove chicken from skillet to serving platter and set aside
Reduce heat. Add lemon juice and butter to skillet and whisk together as butter melts.
Stir in seasoning and simmer gently for 1-2 minutes to reduce sauce a bit.
If needed, return chicken to skillet to warm. Remove chicken to platter. Pour sauce over chicken and serve immediately.
Serving size:
1 piece
Calories:
531,
Carbohydrates:
11 grams,
Protein:
65 grams,
Recipe by
A Pinch of Joy
at https://www.apinchofjoy.com/2020/05/italian-chicken-breast-with-butter-lemon-sauce/