Jazzy Grilled Cheese Sandwich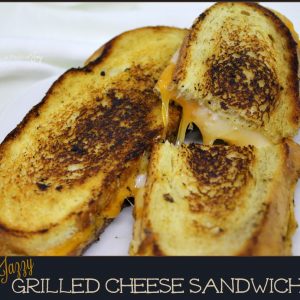 Author:
A Pinch of Joy by Charlene Vance
2 slices of bakery bread
1-2 slices of Havarti cheese
1-2 slices of Gouda cheese
1-2 slices of cheddar cheese
1 teaspoon Dijon mustard
2 tablespoons of butter, divided
1 teaspoon garlic powder
Melt butter and garlic powder in microwave
Spread Dijon mustard very thinly on each slice of bread, about ½ teaspoon each.
Place one slice of each kind of cheese on half of the bread. If slices are large, two slices of cheese may be needed to cover the entire slice. Place the other slice of bread, mustard side down, on top of the cheese.
Using a pastry brush, brush the butter onto the top and bottom of both sandwiches until all the butter is gone
Heat a skillet over medium heat and melt a teaspoon of butter in the skillet
When melted, cook sandwiches until both sides are golden brown and the cheese is melted
Nutritional information is an estimate. Actual values will depend on size and brand of bread and cheese used.
Carbohydrates:
30 grams,
Protein:
32 grams,
Recipe by
A Pinch of Joy
at https://www.apinchofjoy.com/2020/06/jazzy-grilled-cheese-sandwich/