Chicken Tikka-Masala Tacos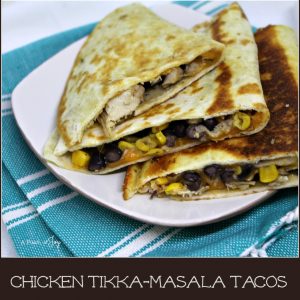 Author:
A Pinch of Joy by Charlene Vance
1 pound chicken breast, cubed into ½ inch pieces
½ cup sun dried tomato vinaigrette dressing
½ cup chopped onion, approx. 1 medium
½ cup sour cream
2 Tablespoons tomato paste
1 Tablespoon garam masala*
1 15 ounce can black beans, drained
1 15 ounce can corn, drained
1 package shredded lettuce
1 package tortillas
!For garam marsala, mix together
1 ½ teaspoons ground coriander
1 ½ teaspoons ground cardamom
1 ½ teaspoons ground black pepper
1 teaspoon ground cinnamon
½ teaspoon ground cloves
½ teaspoon ground nutmeg
Measure what is needed and store rest in tightly covered jar.
Using sharp knife, slice chicken breast into ½ inch cubes. Dice medium onion and mix into the vinaigrette dressing in medium bowl. Add chicken and pour into zipper bag. Knead until chicken is thoroughly coated.
Pour into into a non-stick skillet on medium heat, and cook for 6-8 minutes, until chicken is no longer pink. Stir frequently.
In small bowl, mix together sour cream, tomato paste and garam masala. Add to chicken mixture in skillet. Bring to a boil, stirring frequently. Add drained black beans and corn, Reduce heat and simmer for 7 minutes, until chicken is completely cooked and everything is heated through.
Heat large skillet drizzled with olive oil. Place tortilla in skillet for a few seconds until warmed through. Remove to plate, place another tortilla in skillet to warm.
Add 1-2 tablespoons of chicken mixture on half of tortilla on plate. Fold. Remove second tortilla from skillet and place the folded, filled tortilla in skillet. Fill second tortilla with chicken mixture, fold and add to skillet. Turn folded tortillas over when bottom becomes golden. Cook until second side is also golden and remove from skillet to serving platter.
Add more olive oil to skillet and repeat steps of warming, filling and folding and browning tortillas until filling is used.
Serve with shredded lettuce.
Nutrition values are estimates only.
Calories:
323,
Carbohydrates:
41 g,
Protein:
18 g,
Recipe by
A Pinch of Joy
at https://www.apinchofjoy.com/2020/06/chicken-tikka-masala-tacos/