Spiced Carrot Pineapple Cake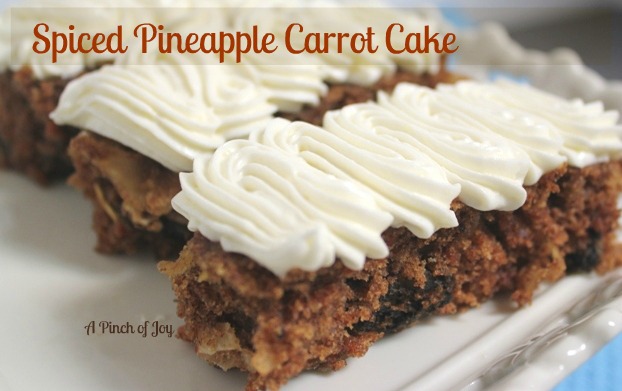 Author:
Charlene - A Pinch of Joy
2 cups flour
1 ½ cup sugar
¼ cup brown sugar, packed
1 ½ teaspoons baking soda
1 teaspoon salt
4 teaspoons cinnamon
¼ teaspoon nutmeg
¼ teaspoon ground cloves
¼ teaspoon ground ginger
2 cup grated and peeled carrots, packed
1 cup sweetened coconut flakes
½ cup golden raisins, optional
1 can 8 oz crushed pineapple, drained
1 Tablespoon of pineapple juice, from above
1 ½ cup of English walnuts
1 cup cooking oil
2 teaspoons vanilla extract
3 eggs
¼ cup butter
1 8oz package of cream cheese
1 cup powdered sugar
4 teaspoons vanilla extract
Tiny pinch of salt
Peel and grate carrots. I use a bag of baby carrots and run them through the food processor.
Measure all dry ingredients into large bowl and whisk together.
In mixing bowl, mix together carrots, drained pineapple, raisins, coconut flakes and walnuts.
Add oil, vanilla and reserved pineapple juice.
Add eggs one at a time, mixing well between each one.
Slowly add dry ingredients and mix until well mixed about one minute. Do not overmix.
Spray 9x13 pan with cooking spray and pour batter evenly into pan.
Bake at 350 degrees for 40-45 minutes until toothpick inserted in center comes out clean.
Allow to cool thoroughly before cutting or icing.
Soften butter and cream cheese at room temperature.
Cream butter until light about 2 minutes.
Add cream cheese and cream with butter for additional 2 minutes.
Slowly add powdered sugar, salt and vanilla. Mix well.
If desired, you can add up to one more cup of powdered sugar to your desired sweetness and firmness.
Keep at room temperature for ease in icing, but refrigerate any leftovers.
Serving size:
1 piece 3 inches by 1.5 inches
Recipe by
A Pinch of Joy
at https://www.apinchofjoy.com/2012/07/spiced-carrot-pineapple-cake/