Toad in the Hole Grilled Cheese Sandwich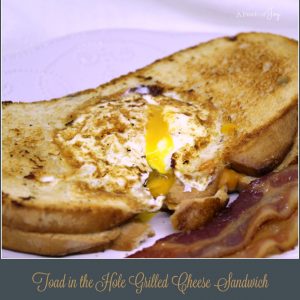 Author:
A Pinch of Joy by Charlene Vance
2 slices sour dough bread
1 tablespoon mayonnaise
1 large egg
1 slice cheddar cheese
2 cooked bacon strips
Cook bacon slices in small skillet over medium heat. While cooking, follow steps below.
Using small round cookie cutter (or upside down small glass) cut out the center of one slice of bread.
Spread mayonnaise on one side of each of the bread slices.
Mayonnaise side down, toast the slice with the hole in it over medium heat. Flip slice and break egg into the center.
Place remaining slice, mayonnaise side down in skillet. Top with cheese.
Cover and cook until egg white is set. Yolk will be soft set. If necessary, flip slice with egg to finish cooking.
To assemble sandwich, the solid slice with cheese will become the bottom. Add cooked bacon, if desired. Place slice with cooked egg on top.
Nutritional value will depend on brand of bread. Use nutritional values on package.
Recipe by
A Pinch of Joy
at https://www.apinchofjoy.com/2020/08/toad-in-the-hole-grilled-cheese-sandwich/