Toffee Butter Brickle Ice Cream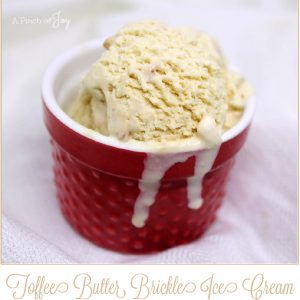 Author:
A Pinch of Joy by Charlene Vance
1 ½ Tablespoons butter
⅓ cup light brown sugar
¼ cup heavy cream
½ teaspoon vanilla
3 cups half and half
¼ cup butter
1½ cups light brown sugar
⅓ cup Toffee Sauce (above)
3 cups heavy cream
1 ½ cups Heath Bits
Dash of salt
In medium saucepan, stir butter, brown sugar, cream and salt until the butter melts.
Turn heat to low and simmer without stirring for three minutes.
Remove from heat and stir in vanilla extract. Cool.
Warm butter, brown sugar and half and half over medium heat until the butter melts and ingredients are thoroughly mixed. Add Toffee Sauce and vanilla.
Chill at least 4 hours; preferably overnight.
Add heavy cream and process in ice cream maker, according to directions.
Stir in toffee bits at the end of process.
Ripen in container for at least four hours before serving.
Nutritional guidelines are an estimate. Size of serving is estimated at one ice cream scoop the equivalent of ¼ cup. Time for processing varies according to directions for your ice cream maker. Bee substituted evaporated milk for the heavy cream - worked well and tasted great. Carb counts are approximately the same for evaporated milk and heavy cream.
Serving size:
1 scoop
Calories:
177,
Carbohydrates:
22 grams,
Protein:
1 gram
Recipe by
A Pinch of Joy
at https://www.apinchofjoy.com/2020/08/toffee-butter-brickle-ice-cream/